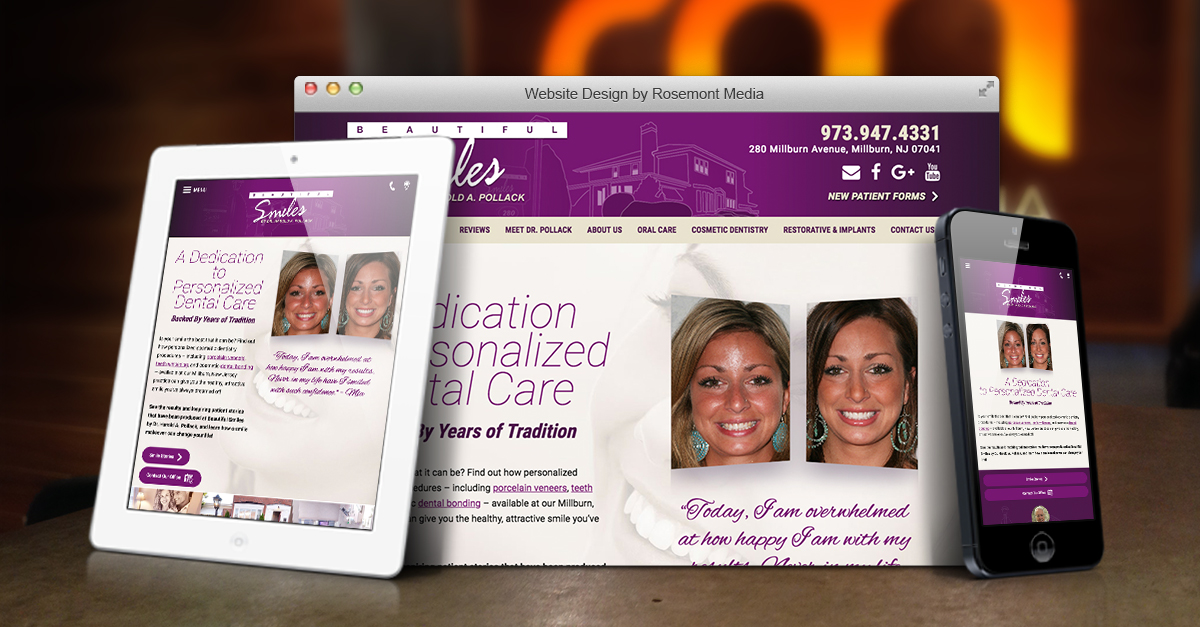 Project Details:
Launch Date:
April 2018
Page Count:
51
Services Overview:
Custom Responsive Design, SEO, Custom Content, CMS, Photo Upload Gallery, and Blog
Compatibility:
Desktop, Tablet, Mobile
Visit Website:
Categories:
Dr. Harold A. Pollack, a dentist in New Jersey with long ties to the Millburn community, has a great deal to be proud of. He has been recognized as a "Top Dentist" numerous times, has completed thousands of hours of continuing dental education, and is well-known as one of the most experienced and compassionate doctors in the area. While his website has served his practice extremely well for many years, Dr. Pollack decided it was time for an upgrade. So, our team at Rosemont Media collaborated with Dr. Pollack to design a sleek, beautiful new responsive website complete with a number of advanced features to give viewers the best experience possible.
The new website for Beautiful Smiles by Dr. Harold Pollack utilizes some of the latest design and dental SEO strategies to help the practice maintain its prominent place in search engine results. The site seamlessly integrates a number of videos featuring patient testimonials, introductions to the dental team, procedure animations, and a virtual tour of the practice, along with detailed descriptions of the many advanced treatments available. The layout includes a helpful top navigation bar that provides the reader with easy access to the many topics covered on the website, and the content is segmented in a way that makes the abundant amount of information more easily readable. An updated blog, patient reviews page, and downloadable forms round out this new, beautiful package.
See the results at beautifulsmilesnj.com, and contact Rosemont Media to learn how you can upgrade your website or create a fantastic new site that's ideal for both current and prospective patients alike!