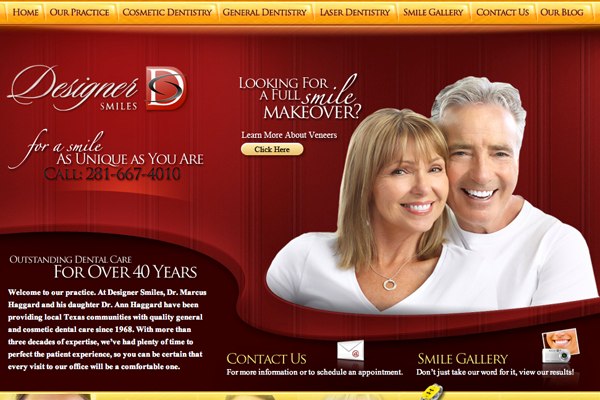 Project Details:
Launch Date:
May 2011
Page Count:
20
Services Overview:
Custom Design, SEO, CMS, JavaScript Slide Show, Blog, and Photo Upload Gallery
Compatibility:
Desktop
Visit Website:
Categories:
Houston cosmetic dentists Dr. Marcus Haggard and Dr. Ann Haggard wanted to create a comprehensive, yet easy-to-navigate online resource for their current and potential patients. Whether researching future procedures, or contacting the practice to schedule a cosmetic dentistry consultation, the team at Designer Smiles is committed to providing exceptional patient care, further enhanced by the custom dental website design that made their new site possible.
Our team of graphic designers and search engine marketing experts has created a diverse and informative narrative to help Houston cosmetic dentistry patients get to know Designer Smiles by including doctor biographies, detailed descriptions or each procedure offered, and patient testimonials. We also included social media buttons, further supported by dental Facebook optimization, to allow patients to connect seamlessly to both dentists through their Facebook community, YouTube channel, and cosmetic dentistry blog.
The designerforsmiles.com website has been fully optimized to improve search engine performance, while the custom design features create a user-friendly and educational experience as they consider the wide spectrum of procedures the cosmetic dentistry practice offers.
Visit the Designer Smiles website for more information, and a closer look at what the dental marketing and website design team at Rosemont Media can do for your practice.