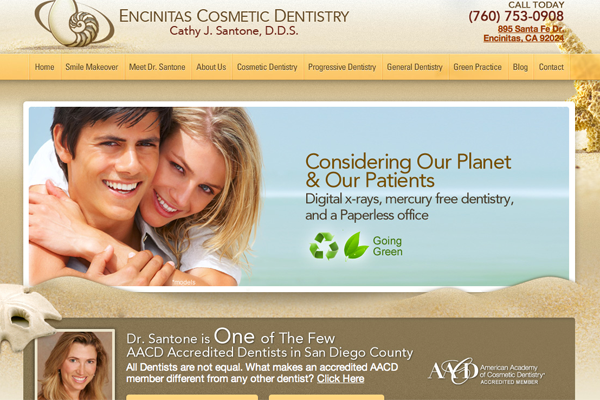 Project Details:
Launch Date:
May 2011
Page Count:
51
Services Overview:
Redesign, CMS, SEO, Custom Content, Photo Upload Gallery and Blog
Compatibility:
Desktop
Visit Website:
Categories:
Dr. Cathy Santone is a cosmetic dentist in Encinitas, CA. With her new website, Dr. Santone wanted to convey her commitment to exceptional patient care supported by the latest in dental technology. In collaboration with the team of graphic designers and content managers at our dental website design firm, Dr. Santone has achieved just that as she announces the launch of her new website, www.drcathysantone.com.
To ensure a positive cosmetic dentistry experience for each patient, providing a comprehensive network of easy-to-navigate information based on her practice was extremely important. The website includes a doctor biography, detailed descriptions of each procedure performed, and a smile gallery of before-and-after photos. Dr. Santone also wanted to inspire the formation of an online community and improve her social media optimization and marketing capabilities, which is why she wanted to incorporate social media buttons for Facebook and her blog RSS feed.
Visit the cosmetic dentistry site today, and then check into the Rosemont Review, our aesthetic healthcare newsletter focusing on dental marketing and website design.