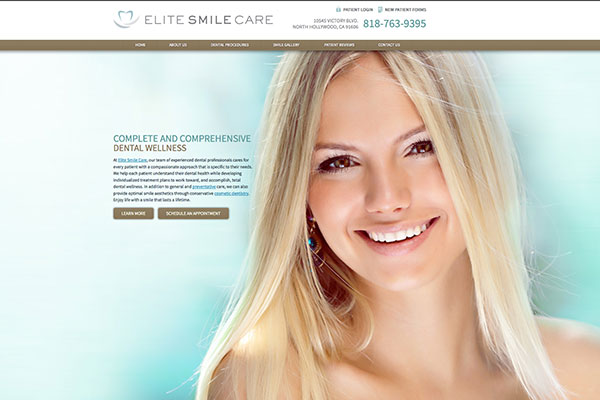 Project Details:
Launch Date:
July 2013
Page Count:
26
Services Overview:
Custom Design, JavaScript Slide Show, Custom Content, SEO, CMS, Photo Upload Gallery, and Blog
Compatibility:
Desktop, Tablet, Mobile
Visit Website:
Categories:
With a comfortable, spa-like approach to his practice, Los Angeles dentist Dr. Michael Kosdon strives to create a calm, relaxing environment. In an effort to continue the theme of comfort and convenience for his patients, he chose to partner with Rosemont Media for a newly designed website for his Hollywood practice. With an updated responsive dental website design, Dr. Kosdon is able to effectively and comprehensively showcase his practice to potential patients on the home computer as well as on their mobile devices – without sacrificing breadth of content. His dynamic new site is also easy to navigate, regardless of whether it is being viewed on a computer, tablet, or smartphone. The website features an abundance of information about a wide variety of procedures, including dental implants, porcelain veneers, TMJ Treatment, and the Smile Facelift®. Viewers of the site can also easily read through patient reviews and browse through patient before and after photos. The RM designers, developers, and writers worked hard to create a beautiful, user-friendly, informative website – enhanced with dental SEO – giving Dr. Michael Kosdon a distinct edge in a very competitive market.
To see an example of how Rosemont Media can design a customized responsive website for your practice, please visit elitesmilecare.com.