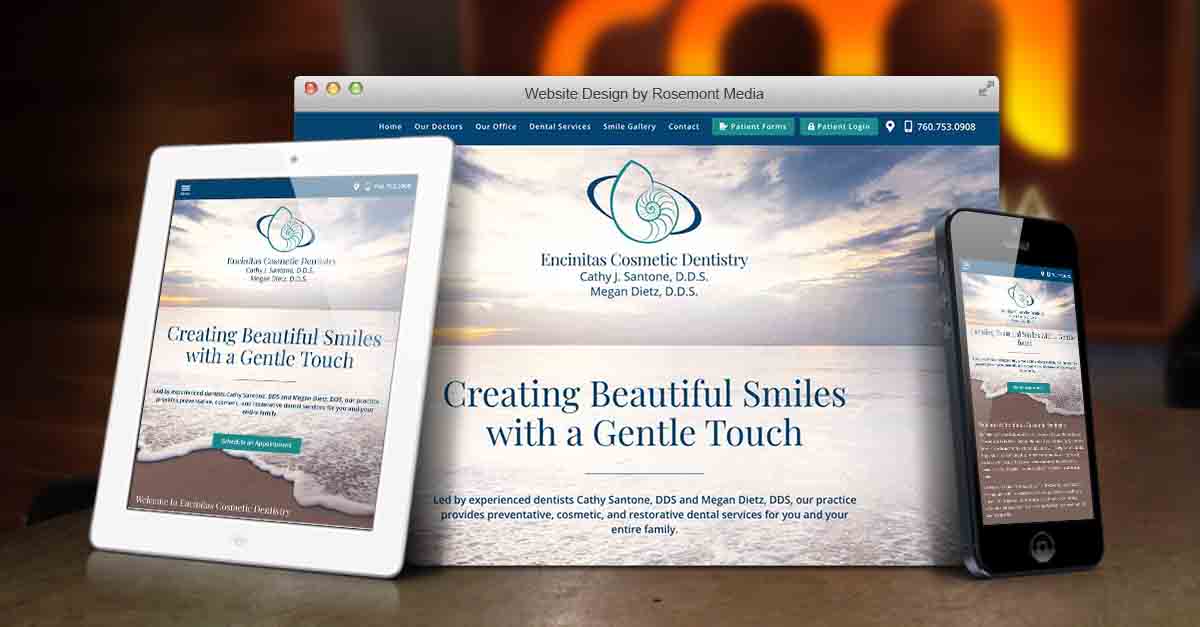 Project Details:
Launch Date:
October 2020
Page Count:
43
Services Overview:
Custom Responsive Design, SEO, Custom Content, CMS, Photo Gallery, and Blog
Compatibility:
Desktop, Tablet, Mobile
Visit Website:
www.encinitascosmeticdentistry.com
Categories:
Dr. Cathy Santone and Dr. Megan Dietz have been helping San Diego patients achieve the smiles of their dreams for over a decade. When Dr. Santone sought a website refresh to mirror Dr. Dietz's addition as a lead dentist and co-owner of Encinitas Cosmetic Dentistry, the team at Rosemont Media was happy to oblige. Following discussions of their partnership and overall goals, our talented website designers worked to inaugurate their collaboration with a brand new responsive website design. Outfitted with a relaxing, beach-inspired theme reflective of their North County, San Diego location, the new and improved online home for Encinitas Cosmetic Dentistry offers robust front-end and back-end features—from a sleek and easily navigable interface to custom-written content and personalized SEO strategies.
As a relatively recent partnership, the change from one to two lead dentists also involved a careful transition of URLs to accurately reflect the dentists' alliance without sacrificing the organic front-page rankings that the practice has achieved over the years. With engaging and informative content written strategically for both online visibility and patient education, the new site puts Encinitas Cosmetic Dentistry in the perfect position to experience unlimited growth.
Explore the results of our collaboration with Drs. Santone and Dietz by visiting www.encinitascosmeticdentistry.com, and contact our marketing team to learn what we can do to help grow your practice!