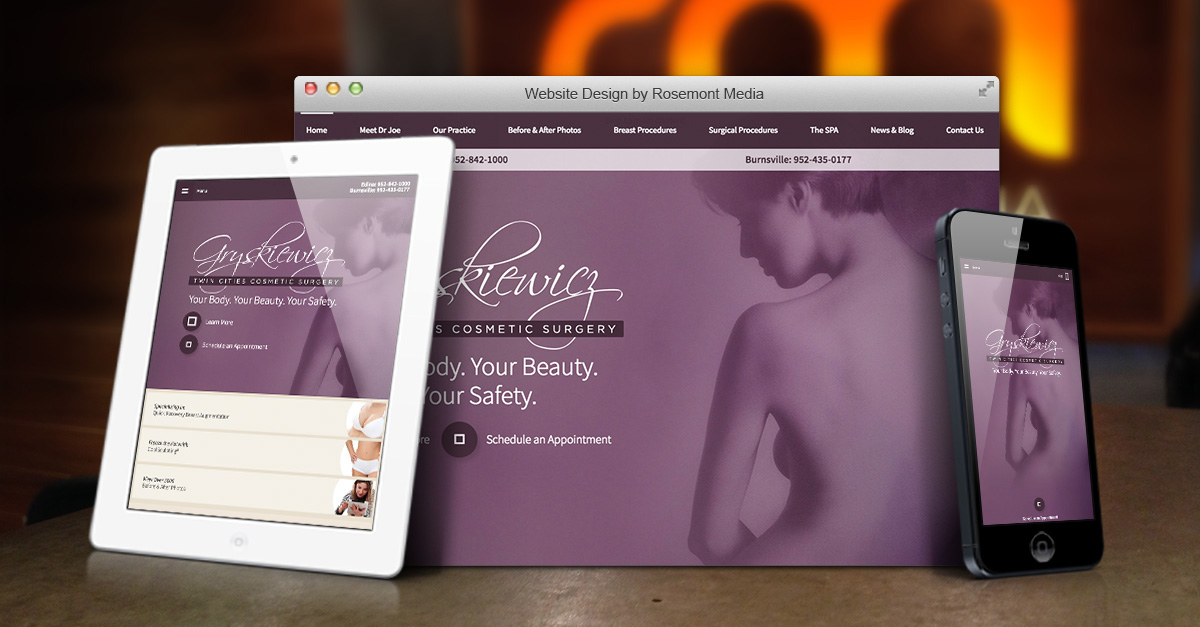 Project Details:
Launch Date:
January 2018
Page Count:
67
Services Overview:
Custom Responsive Design, SEO, Custom Content, CMS, Photo Upload Gallery, and Blog
Compatibility:
Desktop, Tablet, Mobile
Visit Website:
Categories:
When acclaimed Minneapolis plastic surgeon Joe Gryskiewicz, MD ("Dr. Joe") made the decision to upgrade his web presence, he wished to create a helpful and easily navigable resource from which his patients could find answers to their most pressing questions. Dr. Joe consulted with the team at Rosemont Media to create an elite, custom-built responsive website design teeming with a wealth of valuable information and displayed on a seamless, easy-to-read platform. With sleek parallax scrolling and an elegant website layout communicating the different surgical and non-surgical treatments offered at his Twin Cities practice, Dr. Joe's website visitors can have an effortless user experience.
Visually enticing homepage features ensure Dr. Joe's specialized surgical techniques—including Quick Recovery Breast Augmentation and Dual Plane Breast Augmentation—are at the forefront of his site design. This, along with a comprehensive page dedicated to his international speaking endeavors, truly reflect the essence of Dr. Joe's expertise. With custom-crafted procedural content, personalized content marketing strategies, and an expansive library of before-and-after photos, the factors which set Dr. Joe apart from other surgeons are clearly communicated through his new website; an attractive interface accessible on any device or viewport size.
Feel free to peruse www.tcplasticsurgery.com, and when you are ready to bring your dental or surgical practice to life on the web, don't hesitate to contact the team at Rosemont Media.