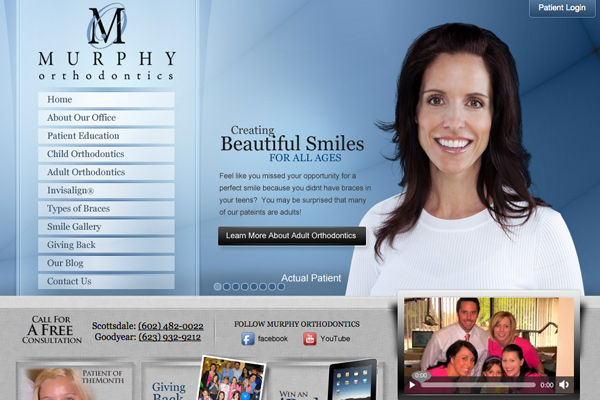 Project Details:
Launch Date:
November 2011
Page Count:
36
Services Overview:
Custom Design, SEO, CMS, JavaScript Slide Show, Video, Photo Upload Gallery and Blog
Compatibility:
Desktop
Visit Website:
Categories:
The new website for Dr. Chris Murphy, an orthodontist in Phoenix, features a wealth of patient information that seamlessly integrates quality graphics with reader-friendly content. Dr. Murphy sought to highlight his attention to patient care by introducing patients to the latest techniques in child and adult orthodontics in Phoenix and through the creation of an easy-to-use website layout that serves as an educational resource. The site utilizes detailed artistry in its design and personable, informative language in its content to showcase Dr. Murphy's focus on personalized and compassionate patient care. Our designs and content are 100% customized to ensure that the website stands out in a competitive market for orthodontics.
Using the latest in dental website design techniques including a layered before-and-after gallery and video integration, patients can experience an interactive dental education that engages and keeps them coming back to the site as a reliable source of information. Dr. Murphy's website is also optimized by our experienced writers and SEO experts so that it receives the highest possible search engine ranking.
To get a better picture of the type of website Rosemont Media can create for you and your practice, visit murphyorthodontics.com.