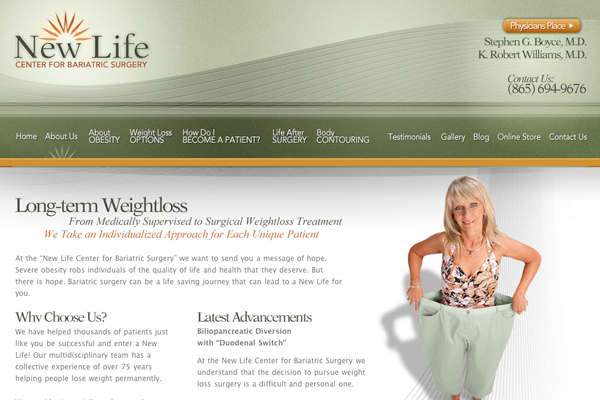 Project Details:
Launch Date:
July 2009
Page Count:
48
Services Overview:
CMS, SEO, Custom Content, and Blog
Special Features:
Gallery
Compatibility:
Desktop
Visit Website:
http://www.newlifebariatricsurgery.com
Categories:
One of the most respected and all-encompassing surgical weight loss facilities in the south is represented by this comprehensive website that's remarkably uncluttered given the volume of information on display. The New Life Center is a Knoxville, Tennessee bariatric surgery practice with a new online look that includes web video, detailed procedure and program description pages, biographies of the surgeons and staff, search engine optimized content, and a streamlined navigation system that makes it easy for visitors to find their way around such an expansive website. An updated blog as well as educational information on obesity are also included, as well as pages devoted to support programs, upcoming free seminars offered by the practice, and more. Dr. Stephen Boyce is also able to display videos featuring himself on local news programs, in addition to making patient forms downloadable online.