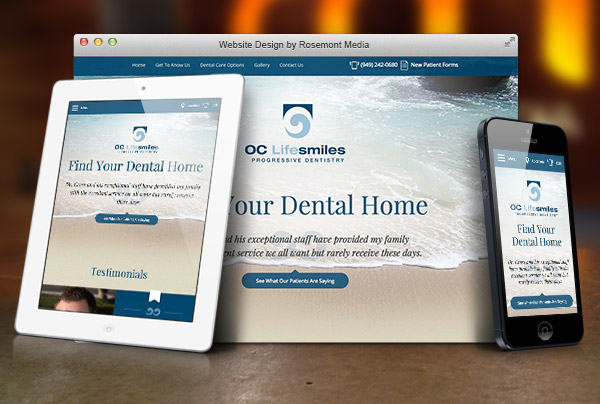 Project Details:
Launch Date:
July 2015
Page Count:
43
Services Overview:
Custom Responsive Design, SEO, CMS, Custom Content, Photo Upload Gallery, and Blog
Compatibility:
Desktop, Tablet, Mobile
Visit Website:
Categories:
To create a website that caters to the viewer, John J. Cross, DDS chose to upgrade his Newport Beach dental practice's website to a responsive design with the help of Rosemont Media. Capable of detecting the screen size of the device being used to view the site, visitors can now enjoy a user-friendly version on smartphones, tablets, desktop computers, or any other Internet compatible device. The responsive dental website design also enables the site to retain the same information regardless of screen size.
The revamped OC Lifesmiles website aims to reflect the practice's patient-centric attitude. The homepage features an interactive patient testimonial slideshow to help potential patients gain some insight into what they can expect from Dr. Cross and his team. The homepage also exclusively features images of actual patients, and visitors to the site can view featured patient cases in the website's gallery of before-and-after photos.
To help Dr. Cross and OC Lifesmiles remain visible in online search results, we equipped the new site with the latest dental SEO strategies. Working closely with Dr. Cross, the entire Rosemont Media team collaborated to create a customized website that represents the philosophy of OC Lifesmiles while also helping to boost their online presence.