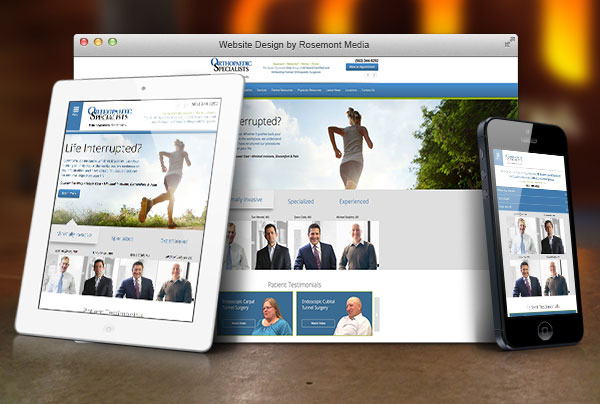 Project Details:
Launch Date:
May 2014
Page Count:
71
Services Overview:
Custom Design, JavaScript Slide Show, SEO, CMS, and Blog
Compatibility:
Desktop, Tablet, Phone
Visit Website:
Categories:
Orthopaedic Specialists, P.C. of the Quad Cities area collaborated with Rosemont Media for the development of the practice's new responsive website design. Our team of developers and designers created an attractive and user-friendly layout to help patients find the information for which they are looking. With its advanced responsive design function, the orthopaedic surgery website automatically adjusts its layout according to the screen size of the device being used to access it, whether it be a tablet, PC, or smartphone.
In addition to its responsive formatting, the new orthopaedic website has also been updated with unique content optimized utilizing the latest SEO strategies. This allows patients to find and access the comprehensive collection of orthopaedic information more easily, whether through a search engine or by navigating through internal pages of the website. Specifics about joint replacement, foot and ankle concerns, sports medicine, and more have been provided for patients to better understand their condition and make a more informed decision about treatment.
For a look inside what Rosemont Media can create for your practice, feel free to browse through Orthopaedic Specialists, P.C.'s new website at www.osquadcities.com.