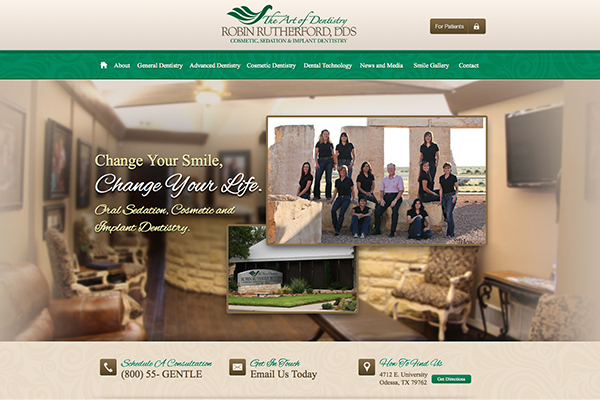 Project Details:
Launch Date:
June 2013
Page Count:
35
Services Overview:
Custom Design, JavaScript Slide Show, Custom Content, SEO, CMS, Photo Upload Gallery, and Blog
Compatibility:
Desktop, Tablet, Mobile
Visit Website:
http://www.gentledentaldoc.com/
Categories:
For over 20 years, Odessa cosmetic dentist Robin Rutherford, DDS has devoted his career to achieving beautiful, natural-looking smiles for his patients by employing the latest dental techniques available. Just as dental techniques and technologies have continued to advance throughout his years in practice, the methods through which patients access and research dental information have progressed as well. In an effort to maintain a competitive advantage in his field, Dr. Rutherford partnered with our experienced team at Rosemont Media to design and develop a responsive dental website that provides patients with a comprehensive resource for dental care.
Equipped with easy-to-use drop-down menus, both current and prospective patients can conveniently navigate throughout the site and access detailed information for every treatment or procedure offered at Dr. Rutherford's practice. Additionally, the responsive design enhances user experience by automatically adjusting to fit the screen size of any device from which the site is being accessed – including computers, tablets, and smartphones. Through the implementation of the latest dental SEO and SMO strategies, Dr. Rutherford's site is also optimized to rank competitively on search engines for highly-targeted terms like porcelain veneers, dental implants, sedation dentistry, and more.
By working closely with our skilled team of designers, developers, and writers, Dr. Rutherford was able to produce a customized website that captures the beauty and quality of results he strives to achieve for each and every patient. To view the type of custom website Rosemont Media can develop for your practice, visit gentledentaldoc.com.