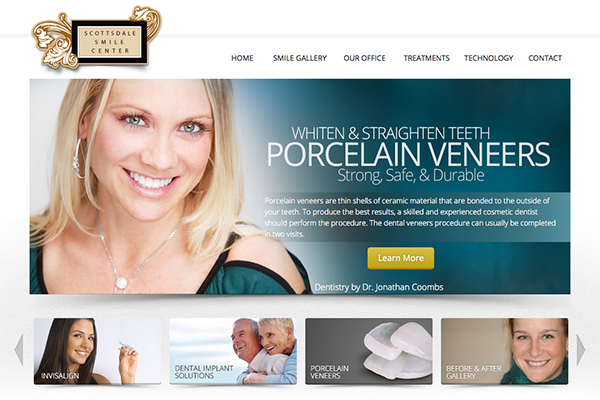 Project Details:
Launch Date:
September 2013
Page Count:
44
Services Overview:
Custom Responsive Design, JavaScript Slide Show, SEO, CMS, Custom Content, Photo Upload Gallery, and Blog
Compatibility:
Desktop, Tablet, Mobile
Visit Website:
Categories:
Through the collective effort of our designers, writers, and developers, Rosemont Media was able to update the Scottsdale Smile Center website to reflect the quality of results and aesthetics Dr. Jonathan Coombs and Dr. Don Chiappetti strive to achieve for each patient at their cosmetic dentistry practice. Featuring picture-coded drop-down menus and a before-and-after smile gallery, the newly responsive website design is crafted to enhance user experience whether accessed from computer, tablet, or smartphone. Additionally, the site is host to a comprehensive assortment of dental information, including extensive treatment and procedural pages ranging from teeth whitening and porcelain veneers, to dental implants and sedation dentistry.
Furthermore, the upgraded website is now equipped with the latest SEO and SMO strategies which will help Drs. Coombs and Chiappetti gain more exposure on search engine results and maintain a competitive edge among Scottsdale dentists.
To take a look at the type of responsive dental website our experienced team at Rosemont Media can customize for you, visit www.scottsdalesmile.com.