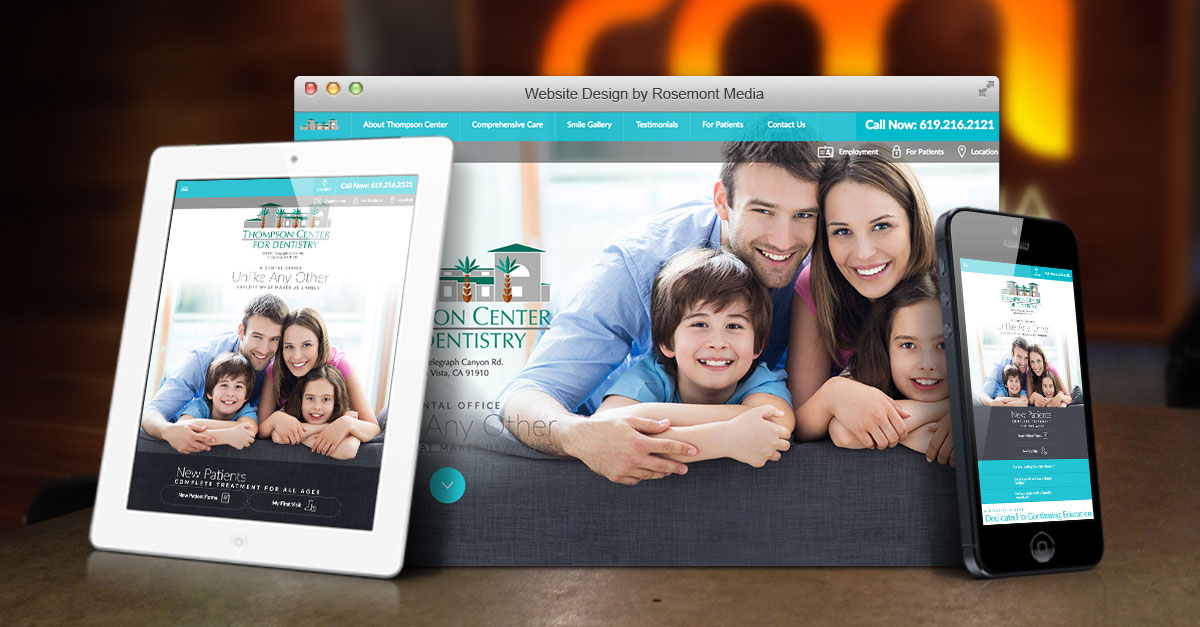 Project Details:
Launch Date:
May 2017
Page Count:
28
Services Overview:
Custom Responsive Design, SEO, CMS, Custom Content, Photo Upload Gallery and Blog
Compatibility:
Desktop, Tablet, Phone
Visit Website:
www.thompsoncenterfordentistry.com
Categories:
The many unique aspects of Thompson Center for Dentistry made it an ideal website for showcasing a plethora of photos and some of the latest design techniques, yielding a comprehensive virtual tour of the practice. Chula Vista dentist Uyen Thompson, DDS wanted to not only emphasize the full range of advanced dental treatments she provides, but also the breathtaking location of her practice and the numerous ways in which Thompson Center for Dentistry stands out among dental offices. In addition to detailed pages describing the variety of cosmetic, restorative, and family dental care options available at the practice, Dr. Thompson's new website utilizes gorgeous images highlighting the lush landscape surrounding her offices as well as the fruit and vegetable gardens cultivated on the grounds (when in harvest, those items are given away to patients free of charge). The ultra-modern design style features beautiful parallax scrolling on the homepage, full-width interior page layout, and a fixed navigation bar so viewers will always have easy access to other categories of the website regardless of how far down the page they scroll. The site also includes a "For Patients" section with access to an array of helpful information for new patients, as well as office forms and post-treatment instructions. Imagery across the website also includes actual patient photographs for even greater personalization, in addition to pictures of the practice's unique amenities and extravagant holiday decoration displays. Plus, Thompson Center for Dentistry's new site has employed a comprehensive content marketing and dental SEO strategy to help it serve as an informative resource for viewers and to appear prominently in search engine results.
Take a look at www.thompsoncenterfordentistry.com to see what modern website design can achieve. If you are considering a brand new website or an upgrade to your current site, please contact Rosemont Media today.