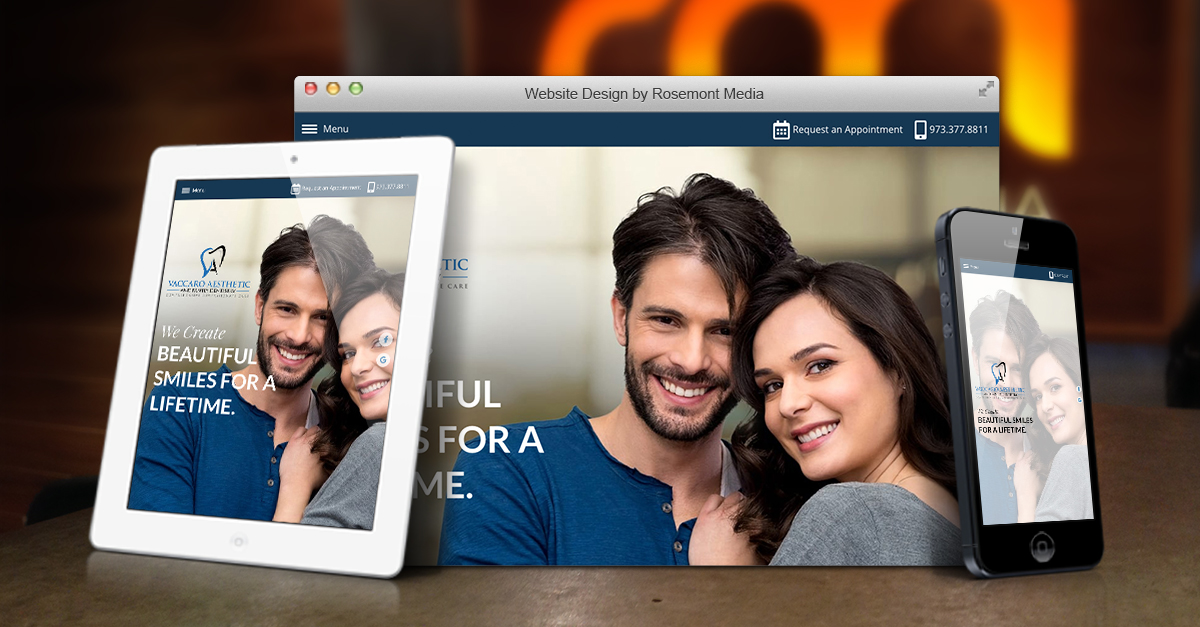 Project Details:
Launch Date:
July 2020
Page Count:
24
Services Overview:
Custom Responsive Design, SEO, Custom Content, CMS, and Photo Gallery
Compatibility:
Desktop, Tablet, Mobile
Visit Website:
Categories:
Dr. Matthew Vaccaro, a New Jersey dentist serving the Chatham and Green Village areas, wanted a brand new website that could provide patients with a user-friendly way of obtaining detailed information on his extensive selection of services while conveying the warm and compassionate atmosphere he always strives to provide. In collaboration with Dr. Vaccaro, our team at Rosemont Media has developed a website that offers viewers a virtually seamless integration of comprehensive, custom content along with a visually appealing design scheme. This combination of elements can ultimately serve to provide an educational experience that reflects the practice's core mission while giving readers an easily navigable resource that is also pleasing to the eye.
Built with a responsive website design framework to make it accessible and viewable in full on both desktop and mobile devices, Dr. Vaccaro's new site includes advanced dental SEO strategies and detailed content to help the practice stand out in search engine results. The fixed navigation along the top makes it easier for readers to find the topics they are looking for across the website's 26 pages, which include a biography and list of credentials for Dr. Vaccaro, an abundance of content explaining specific treatment options, a before-and-after photo gallery, and multiple calls-to-action for easy access to contacting the practice. Well-placed images combined with inviting colors, strategically segmented content, and a streamlined layout help make the entire viewing experience both informative and welcoming.
Please feel free to take a look at vaccaroaesthetic.com to see the results, and contact Rosemont Media to find out how you can upgrade your existing website or develop a whole new one with the latest tools to help your practice reach more patients and enhance their online experience.