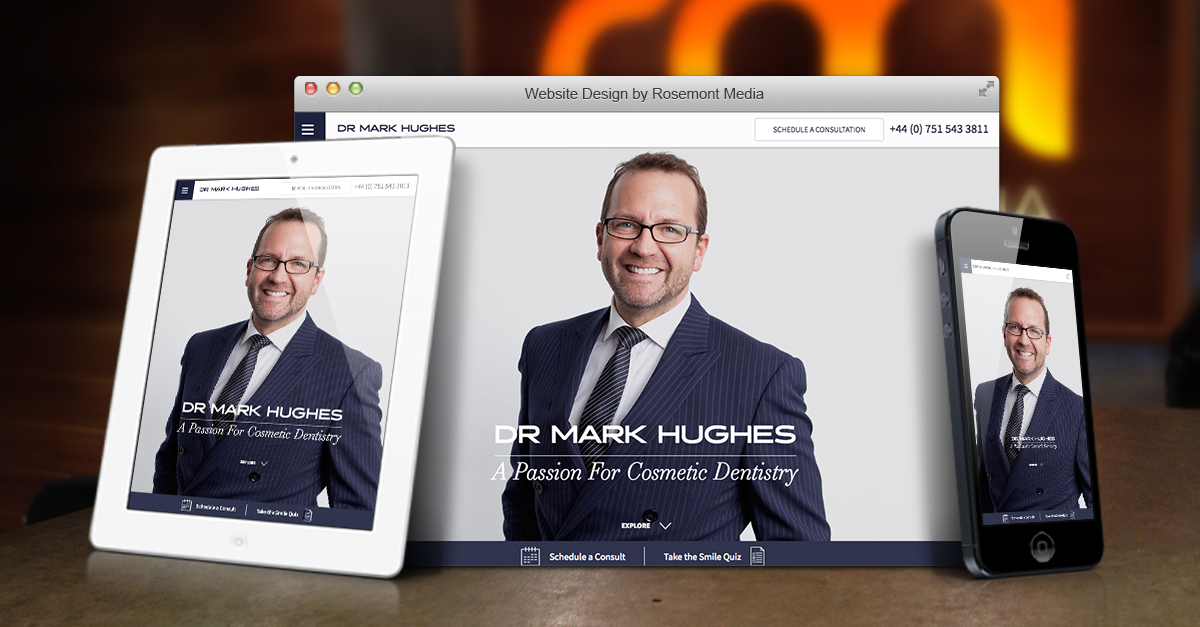 Project Details:
Launch Date:
May 2018
Page Count:
20
Services Overview:
Custom Responsive Design, SEO, Custom Content, CMS, and Photo Upload Gallery
Compatibility:
Desktop, Tablet, Mobile
Visit Website:
Categories:
When Dr Mark Hughes sought to create a comprehensive resource that could reflect his 25+ years of experience as one of London's most prominent cosmetic dentists, he enlisted our team at Rosemont Media to help him upgrade his web presence while showcasing the wide range of aesthetic dentistry services offered at his practice. With his expertise in both cosmetic and restorative dentistry serving as the focus of the site, the result was a custom-built, fully responsive website design that prioritizes a seamless user experience.
Much like the treatments offered at Dr Hughes' practice, the features of his state-of-the-art website combine function and beauty to produce a dazzling final outcome. Advanced parallax scrolling coupled with a sleek, modern layout allow the elements of the page to move interactively, offering a dynamic user experience as visitors enter the site to research their prospective treatment. Dr Hughes' body of work is clearly illustrated on the homepage, as well as the patient gallery, via custom before-and-after photo sliders— an elegant feature that gives patients a quick and convenient look into what can potentially be achieved with a given treatment.
Dr Hughes' advanced website is also outfitted with custom-written content delineating everything from the details involved with different procedures to his credentials and practice philosophy. With location-based content marketing and search engine optimization strategies integrated throughout the site design, Dr Hughes can rest assured that his services are visible to the exact patients who are seeking them out.
Feel free to explore the final results of Dr Hughes' site at www.drmarkhughes.co.uk, and be sure to contact Rosemont Media when you are ready to take your web presence to new heights!