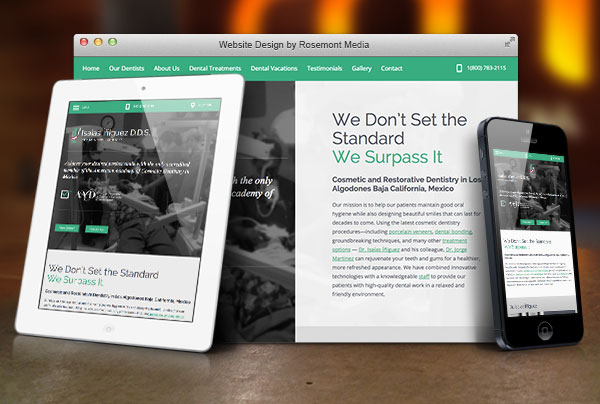 Project Details:
Launch Date:
October 2015
Page Count:
19
Services Overview:
Services Overview: Custom Responsive Design, SEO, CMS, Custom Content, Photo Upload Gallery, and Blog
Compatibility:
Desktop, Tablet, Phone
Visit Website:
Categories:
Some of the most unique and innovative design elements have been utilized for the website of Dr. Isaías Íñiguez. This comprehensive dental website offers a virtual sea of helpful information for individuals researching advanced dental treatment options.
Since Dr. Íñiguez's website has been created using a responsive design, it can be read and navigated easily on a multitude of media platforms without the need to excessively pinch or zoom in order to see everything clearly. On the home page, you will see a fixed left side while the right side can be scrolled. Many of the images on the site appear black and white… at first! Just move your cursor over them and you'll get a glorious fade-in of living color. These effects give the site a feeling of life and movement that offers viewers a welcoming experience.
In addition to the many technological bells and whistles, Dr. Íñiguez new site is full of useful information for visitors, including detailed biographies of the dental team, a patient testimonials page, a before-and-after photo gallery, and in-depth descriptions of dental treatments available at the practice. The website also includes a Dental Vacations page with information that can be very beneficial for individuals who are traveling to the practice's Los Algodones location for dental care.
Dr. Íñiguez is the only dentist with a practice in Mexico who is accredited by the American Academy of Cosmetic Dentistry, and we wanted to give him a website that would adequately reflect his expertise and the quality of care he is committed to providing his patients. With advanced dental SEO and content marketing strategies combined with a state-of-the-art website design, we believe Dr. Íñiguez and his practice will be able to stand out in a crowded field!
Please take a look at Dr. Íñiguez's new website at www.driniguez.com. If you have questions about how you can take your practice's website to the next level, or if you are looking to build a brand new website from the ground up, please contact Rosemont Media today.