Dentist in Redondo Beach and Manhattan Beach, CA Unveils Expansive New Website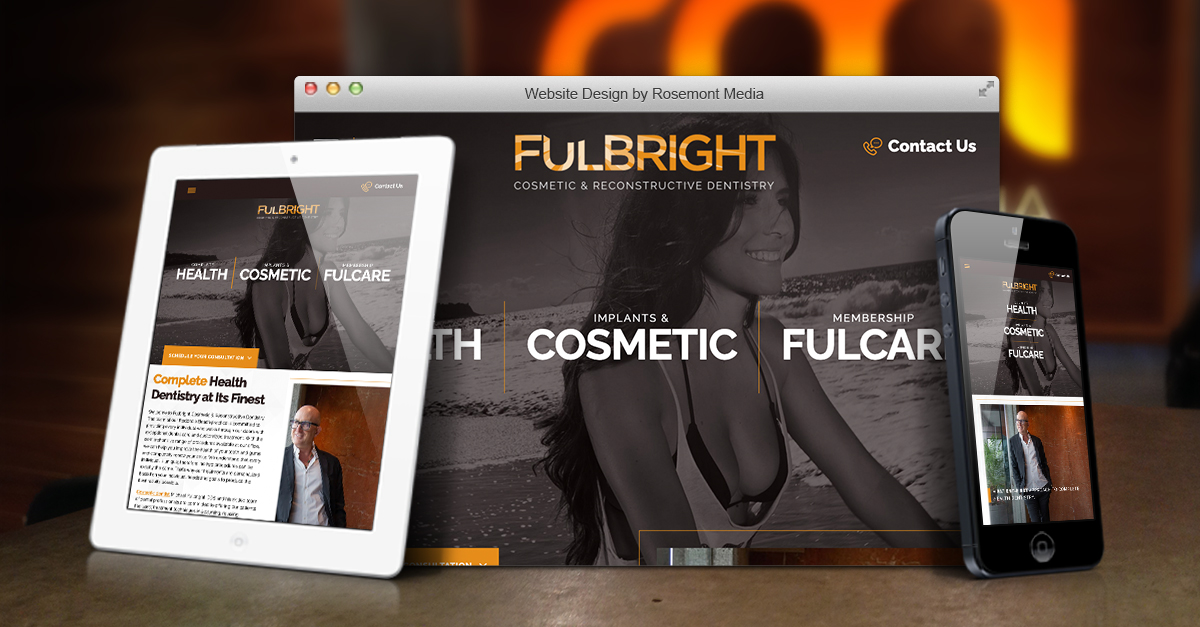 Dr. Michael Fulbright, the Director of Fulbright Cosmetic & Reconstructive Dentistry in Redondo Beach and Manhattan Beach, is launching a new website to provide individuals with a comprehensive educational resource for cosmetic, restorative, and general dental care.
Redondo Beach, CA – The worldwide web includes thousands, if not millions, of websites with information about an important human need: dental care. In highly populated geographic areas such as Southern California, there are many dental practices that offer a variety of services, and it may be challenging for online viewers to narrow down their selections of prospective dentists for whom they will ultimately choose to fulfill their dental needs. With that in mind, Dr. Michael Fulbright, a dentist in Redondo Beach and Manhattan Beach, recently decided to upgrade his practice's website in a way that offers individuals looking for high-quality dental care a thorough educational resource that is easily accessible and viewable across a range of convenient digital platforms. He says the expansive new website for Fulbright Cosmetic & Reconstructive Dentistry builds on the previous version of his site by giving viewers an even more comprehensive look inside his practice and the wide variety of treatments and procedures he provides.
Dr. Fulbright's new website essentially offers readers a 48-page virtual tour of his practice. It has been customized from the ground up with a responsive website design, which allows the site to be easily viewed and navigated in full on smartphones, tablets, laptops, and desktop computers. Dr. Fulbright wanted the website to reflect his dental team's compassionate, patient-first approach to care in addition to his practice's extraordinary selection of advanced treatments and services while providing the viewer with a pleasant, informative viewing experience. Along with an inviting coastal design theme and an overall page layout that makes finding specific information on the site just a few clicks away, the new website includes an extensive biography of Dr. Fulbright and fellow dentist Aaron Gerson, DDS, as well as detailed pages on treatments such as porcelain veneers, dental implants, family dental care, sleep apnea treatment, and more. Plus, the new website gives readers an overview of the oral systemic health link and Dr. Fulbright's commitment to providing care with an eye toward a patient's total health and wellness. Additionally, the site includes a before-and-after photo gallery, sections devoted to Dr. Fulbright's considerable community work and charitable contributions, and information on Dr. Fulbright's innovative FulCare Dental Plan for patients who do not have dental insurance or would like to utilize an alternative to their current insurance plan.
All in all, Dr. Fulbright believes his new website, produced in collaboration with San Diego-based dental website design firm Rosemont Media, can allow viewers to not only find comprehensive descriptions of available treatments, but also learn about the kind of experience they can expect to have during their visit. Ultimately, Dr. Fulbright says, the website can provide individuals with a sweeping look inside his practice and help them understand the services available in addition to his practice's commitment to safe, effective care while creating beautiful, healthy smiles.
About Michael Fulbright, DDS
Dr. Michael Fulbright is a Sustaining Member of the American Academy of Cosmetic Dentistry and a member of the American Academy of Dental Sleep Medicine. Dr. Fulbright also holds membership in the American Academy of Implant Dentistry, the American Dental Association, the West Los Angeles Dental Society, and other organizations. He has been recognized as a "Top Dentist" in Southbay magazine and has achieved a "Best Dentist in LA" recognition in Expertise. As the Director of Fulbright Cosmetic & Reconstructive Dentistry in Redondo Beach and Manhattan Beach, California, Dr. Fulbright and his dental team offer a wide variety of treatments and procedures for patients in need of general, cosmetic, and restorative dental care, as well as for individuals seeking effective solutions for conditions such as TMJ Disorder and sleep apnea. Dr. Fulbright is available for interview upon request.
For more information about Dr. Fulbright and his practice, visit fulbrightdental.com or facebook.com/FulbrightDental.
Contact:
Michael Fulbright, D.D.S.
Redondo Beach Location:
1815 Via El Prado, Ste. 200
Redondo Beach, California 90277
(310) 316-4477
Manhattan Beach Location:
1221 Highland Ave.
Manhattan Beach, CA 90266
(310) 545-4561
Rosemont Media
858-200-0044
www.rosemontmedia.com