Toronto Area Dental Practice Unveils New Responsive Website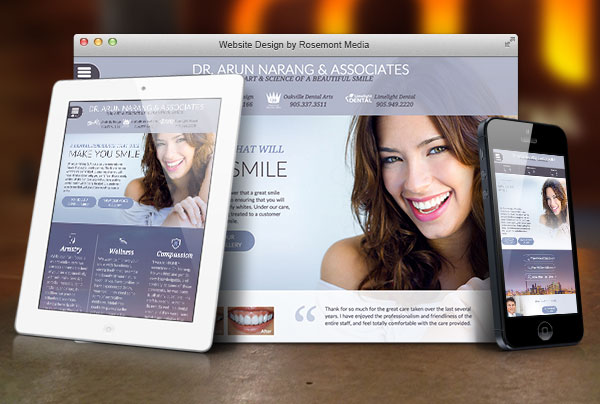 Dr. Arun Narang & Associates extends its personal, patient-centered philosophy to the practice website by upgrading to a responsive format, improving the user experience at home and on the go.
Mississauga, ON— Patients should feel comfortable with and in control of their dental experience before they even step foot in an office, states Dr. Arun Narang, the founder of Dr. Arun Narang & Associates. To ensure individuals receive the best possible service wherever they may be, the Mississauga dental practice collaborated with Rosemont Media, a dental marketing firm, to develop a customized responsive dental website. As a result, visitors now have convenient access to a variety of advanced features, which they can view from nearly any Internet-compatible device, such as smart phones, laptops, tablets, and desktop computers.
In addition to the easily-navigable interface, the updated website also features a soothing color palette, aesthetically appealing design features—including a vertical drop-down menu—and an abundance of informative dental content. The material covers procedures, sedation options, location hours and directions, and before-and-after photo and video galleries, which are designed to assist patients researching material on general, restorative, and cosmetic dentistry options, Dr. Narang explains.
To further ensure current and prospective patients can quickly and easily locate the information they are seeking, Rosemont Media also equipped the website with the latest dental SEO strategies to position the site advantageously in its online marketplace. Dr. Narang says the expanded design elements and functionality reflect the patient-centered philosophy of his practice, and he hopes visitors can utilize the site as a helpful tool in their research.
About Dr. Arun Narang & Associates
Dr. Arun Narang & Associates is led by Dr. Arun Narang, who is on the Board of Directors for the American Academy of Cosmetic Dentistry (AACD), was Co-Chair of the AACD's Professional Education Committee, and is a past president of the Toronto Academy of Cosmetic Dentistry. The practice offers patients in the greater Toronto area access to advanced dental care and state-of-the-art dental technology. The comprehensive range of available procedures includes routine checkups, root canal therapy, teeth whitening, veneers, orthodontics, restorative and cosmetic options, and more. Emphasizing compassion and a luxurious environment, the dentist, specialists, and hygienists that comprise the practice are committed to providing an exceptional experience from start to finish.
For more information about Dr. Arun Narang & Associates, please visit smilebydesign.com.