Ribbon Cut on New Responsive Website for Richmond Dental Practice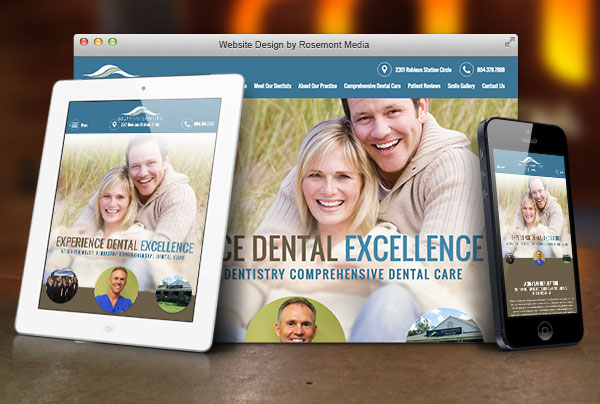 Dr. Jeff T. Blackburn and Dr. Sarah Kennealy of South River Dentistry announce the inauguration of their innovative practice website, which includes an enhanced layout and responsive capabilities.
Midlothian, VA — The professionals at South River Dentistry want to elevate the dental experience, starting with their practice website. Dr. Jeff T. Blackburn and Dr. Sarah Kennealy, dentists in Richmond, VA, recently connected with dental marketing firm Rosemont Media in the hopes of creating an upgraded website that met their needs. From homepage to contact page, the innovative new site is designed to appeal to highly educated and tech-savvy patients who demand the best care possible.
With excellence as the theme of the project, the website includes a responsive design that offers users convenient access from mobile devices as well as desktop computers. Patients can review the educational background and training of the elite dental professionals, take a virtual office tour, and learn more about leading dental treatments. South River Dentistry takes pride in performing a wide range of cosmetic, restorative, and advanced procedures, including dental implants, bone grafting, full mouth rehabilitation, and Invisalign®.
The care and comfort of each person is a high priority for Dr. Blackburn and Dr. Kennealy, and attentive, customized treatment is the standard. Sedation dentistry is available for patients who experience dental anxiety, and the Richmond dentists employ a compassionate approach to enhance the experience from start to finish.
To help individuals locate the practice online, state-of-the-art SEO strategies have been implemented by the Rosemont Media team. Dr. Blackburn believes that by making dental care more inviting and accessible to a modern clientele, more patients of all ages will look forward to caring for their oral health.
About South River Dentistry
South River Dentistry has been providing exemplary dental care to patients in the Richmond and Midlothian, VA area for over 30 years. Founded by Dr. Jeff T. Blackburn, a Fellow of the Academy of General Dentistry, the team of experienced dental professionals offers a comprehensive range of general, cosmetic, restorative, and advanced treatments for the whole family. The practice emphasizes state-of-the-art techniques and technology, and its dentists pursue continuing education to remain at the forefront of the field. Compassionate, comfortable treatment and exceptional results are the standards by which the team measures its success.
For more information about South River Dentistry, please visit midlothiandentist.com and facebook.com/SouthRiverDentistry.