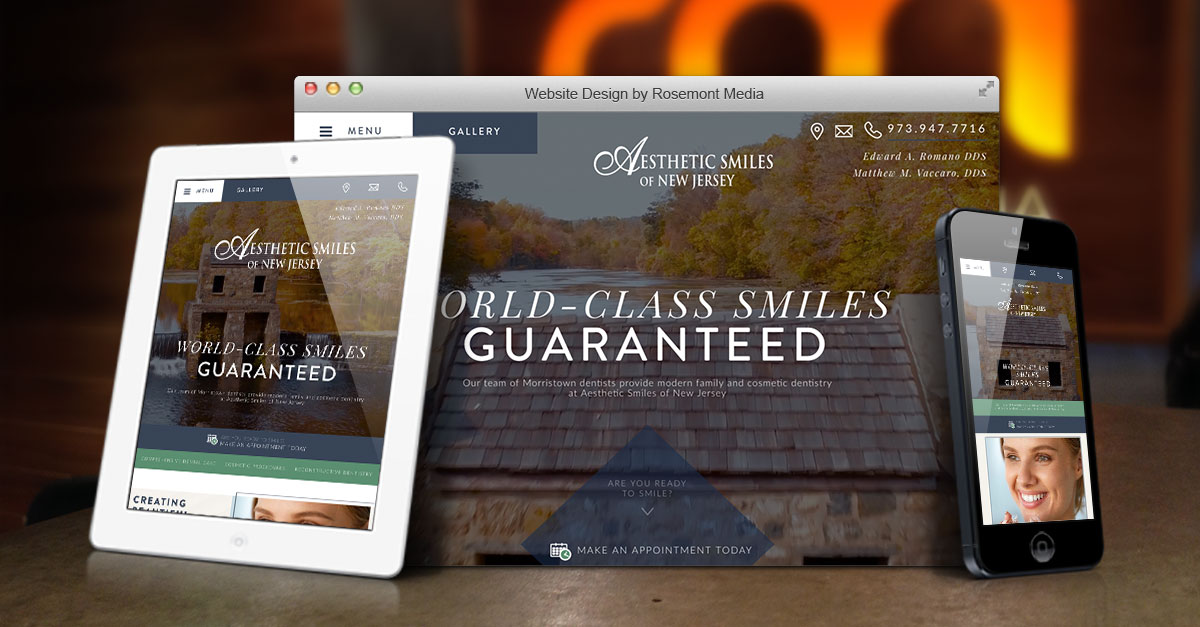 Project Details:
Launch Date:
May 2017
Page Count:
57
Services Overview:
Custom Responsive Design, SEO, CMS, Photo Upload Gallery, and Blog
Compatibility:
Desktop, Tablet, Mobile
Visit Website:
Categories:
The prominent Morristown cosmetic dentists at Aesthetic Smiles of New Jersey recently collaborated with the team here at Rosemont Media to create, design, and optimize their practice's second-generation website. As long-standing clients of Rosemont Media, Drs. Edward Romano and Robert Bizzarro sought out a modern, interactive website to showcase their wide range of general, cosmetic, and restorative dental treatments. An enhanced user experience is integrated in both the appearance and functionality of their fully responsive website design, and is highlighted in the unique, custom-built navigation menu that functions like an opening door. An eye-catching video header welcomes users as they enter the site, while the tasteful color palette, sleek navigation, and easy-to-read layout encourages further exploration. To refine the experience of current and prospective patients, informative procedural videos and interactive before-and-after photo sliders are woven into the site pages. These features appear complementary to uniquely written content displayed on custom landing pages, enticing visual interest from the inside out. Alongside these custom features, Aesthetic Smiles of New Jersey's website also includes advanced content marketing strategies and search engine optimization techniques to maximize the practice's visibility online. In Dr. Romano's words, these efforts "position the practice to dominate the Internet in our area."
To view the state-of-the-art dental website and see an example of Rosemont Media's web design services, please visit https://www.aestheticsmilesofnj.com/.