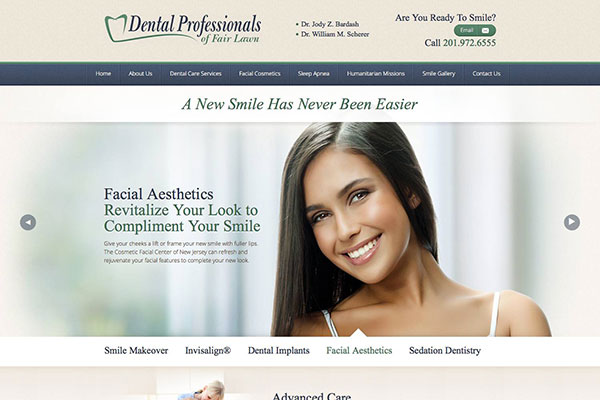 Personalizing each patient's treatment plan is important to Dr. Jody Bardash and Dr. William Scherer of Dental Professionals of Fair Lawn. They believe the best way to achieve exceptional results is by encouraging patient education and maintaining strong doctor-patient communication. Supporting these values, the practice's beautiful new website now serves as an educational tool for prospective and current patients.
Drs. Bardash and Scherer worked closely with Rosemont Media to create a customized website featuring responsive design. This unique component enables users to gain information about the practice quickly and easily on any internet-ready device. The site showcases detailed biographies for all of the dental professionals at the practice, and provides detailed information on procedures such as sedation dentistry, porcelain veneers, Invisalign®, BOTOX® Cosmetic, and many others. The updated website also highlights Dr. Bardash's humanitarian missions with the Health & Humanitarian Health Aid Foundation.
In addition to the intelligent and visually appealing design, the website's content is enriched with dental SEO enhancements, helping Dr. Bardash and Dr. Scherer maintain a competitive edge in their field.
To see an example of customized website design from Rosemont Media, please visit www.dentalprofessionalsoffairlawn.com to see how we can help your practice.