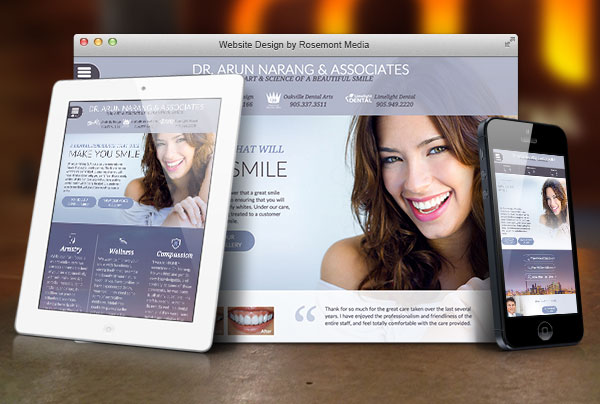 Project Details:
Launch Date:
May 2015
Page Count:
37
Services Overview:
Custom Responsive Design, SEO, CMS, Custom Content, Photo Upload Gallery, and Blog
Compatibility:
Desktop, Tablet, Mobile
Visit Website:
Categories:
With multiple locations near the capital of Ontario, Dr. Arun Narang & Associates is a modern dental practice that believes a high-quality patient experience is paramount. To extend this philosophy beyond the office environment, Dr. Arun Narang and his team recently collaborated with Rosemont Media and our crew of writers, designers, and developers to create a state-of-the-art responsive dental website design with the same elevated standards of care. The new site is informative, easy to navigate, and equipped with the latest dental SEO strategies to position the practice favorably in its online marketplace.
Chief among the many notable updates is the adaptable format, which allows patients to browse the website from Internet-compatible mobile devices, including smart phones, tablets, and laptops, without having to scroll horizontally or zoom to view the entire page. The dental content is equally appealing and serves as an informative and user-friendly resource on the comprehensive array of treatments available at Dr. Arun Narang & Associates, including general, cosmetic, and restorative procedures for the whole family.
Eye-catching design details complete the transformation. The website includes a calming color palette to soothe individuals with dental anxiety and underscore the patient-centered philosophy. Additionally, the aesthetically appealing vertical drop-down menu provides convenient access to material current and prospective patients typically want most, including office location, before-and-after photo and video galleries, and contact information.
With the recent launch of the practice website, Dr. Arun Narang hopes to enhance the patient experience both at home and in the office, as well as to make the process of scheduling and visiting the dentist as easy, stress-free, and enjoyable as possible.