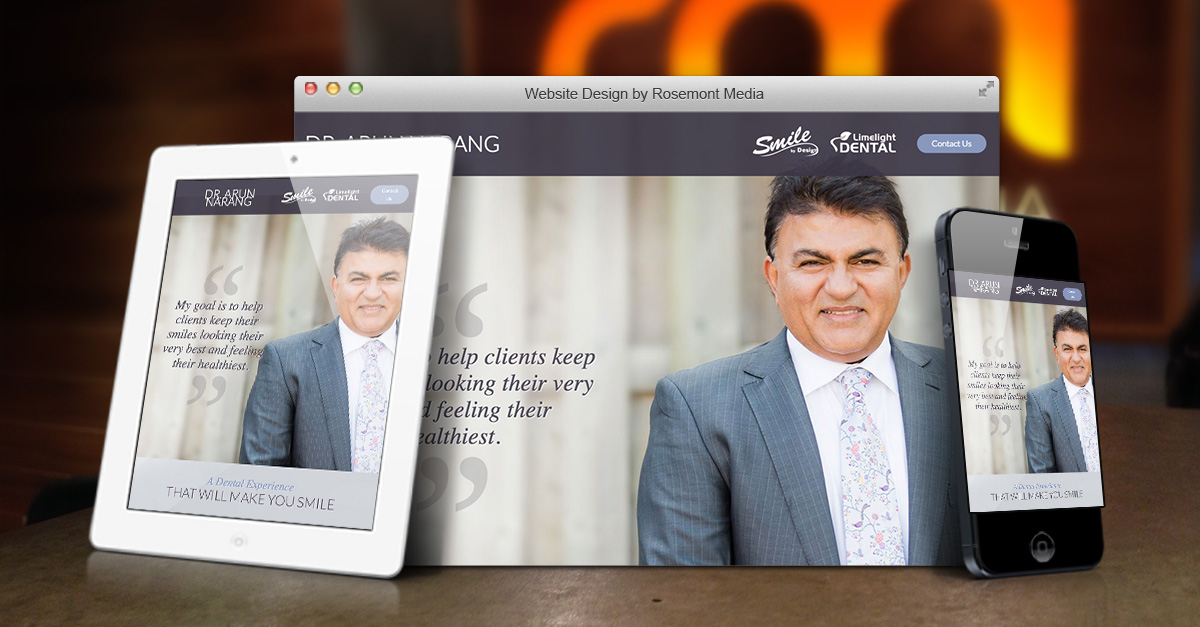 Project Details:
Launch Date:
January 2018
Page Count:
2
Services Overview:
Custom Responsive Design, SEO, Custom Content, and CMS
Compatibility:
Desktop, Tablet, Mobile
Visit Website:
Categories:
Dr. Arun Narang, an extensively trained Mississauga dentist, wanted to reach out to patients and develop a more personal, one-on-one relationship using a state-of-the-art microsite. He connected with our team at Rosemont Media to build a one-page responsive website that showcases the innovative treatments his practice offers and clarifies the philosophy that sets the office apart. The bright, welcoming, and informative result covers a lot of ground in a sophisticated way, implementing parallax scrolling, charming pastels, and bold graphics for an eye-catching but not overstimulating outcome. Visitors can scroll down to learn more about Dr. Narang's professional background, read about his charitable causes, and view a selection of available restorative and cosmetic procedures. A map, located at the footer, allows patients to quickly and easily identify which of the two offices best suits their needs. Finally, easy-to-access links to Facebook, Twitter, and Instagram help to blur the lines between traditional and social media marketing.
Considering a microsite of your own? Check out www.drarunnarang.com for a spellbinding example of what Rosemont Media can deliver.