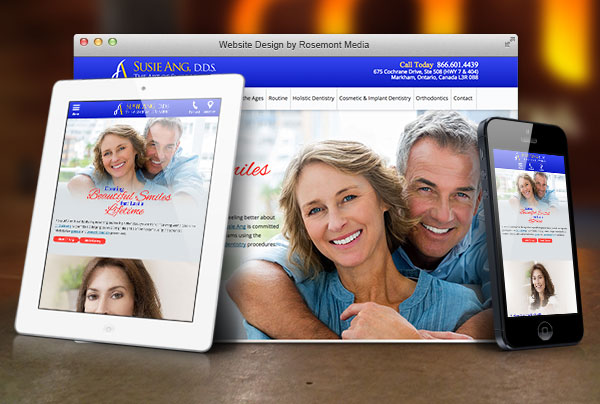 Project Details:
Launch Date:
November 2014
Page Count:
23
Services Overview:
Custom Responsive Design, SEO, CMS, Photo Upload Gallery and Blog
Compatibility:
Desktop, Tablet, Mobile
Visit Website:
Categories:
Dr. Susie Ang collaborated with Rosemont Media to develop a new responsive dental website, and the results speak for themselves. Individuals looking for information on dental treatments such as porcelain veneers, teeth whitening, dental implants, and other options can find a comprehensive educational resource on Dr. Ang's website, one that is easily accessible and readable across a range of digital platforms.
With its responsive design, Dr. Ang's site automatically resizes its display and content to match the dimensions of virtually any screen size, whether it's a desktop computer, a laptop, a smartphone, or a tablet. This makes it possible to convey many of the important details Dr. Ang wants highlighted on the site without sacrificing style or substance.
Dr. Ang's new website is beautifully designed with easy navigation and thorough content, providing viewers with detailed descriptions of procedures, a biography of Dr. Ang, a before-and-after photo gallery, and quick access to contact information. The site has been optimized with some of the latest dental SEO techniques to help Dr. Ang's practice stand out among a crowded field, while providing a user-friendly narrative and an advanced virtual window into her office.
View Dr. Ang's new website at www.drsusieang.com, and contact Rosemont Media today to find out how we can enhance your practice's online profile.