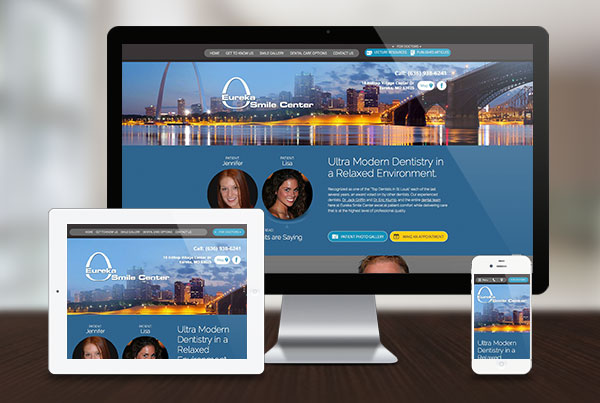 Project Details:
Launch Date:
February 2014
Page Count:
42
Services Overview:
Custom Responsive Design, JavaScript Slide Show, SEO, CMS, Custom Content, Photo Upload Gallery, and Blog
Compatibility:
Desktop, Tablet, Phone
Visit Website:
Categories:
Dr. Jack Griffin of Eureka Smile Center recently collaborated with Rosemont Media to upgrade his current dental website design. Our experienced team of web developers, graphic designers, and writers created a highly advanced, attractive, and user-friendly design with comprehensive information on the general, cosmetic, and restorative dental procedures offered at the practice. The website for this group of St. Louis dentists is designed to be an easily accessible educational resource for individuals researching dental care.
With its new responsive website design, the site can be accessed from any internet-ready device, including laptops, smartphones, tablets, and desktop computers. This innovative feature automatically scales down the website to the appropriate size of each device, reorganizing the content and layout to fit perfectly within the screen dimensions. The latest search engine optimization strategies were also implemented to help the website rank competitively among dental websites. The new site includes detailed biographies of the dental care team, as well as descriptions of many of the treatments offered, including sleep apnea, routine cleanings and exams, teeth whitening, Invisalign®, dental implants, and more.
Please visit www.eurekasmile.com to view the type of customized, responsive website Rosemont Media can build and manage for your dental practice.