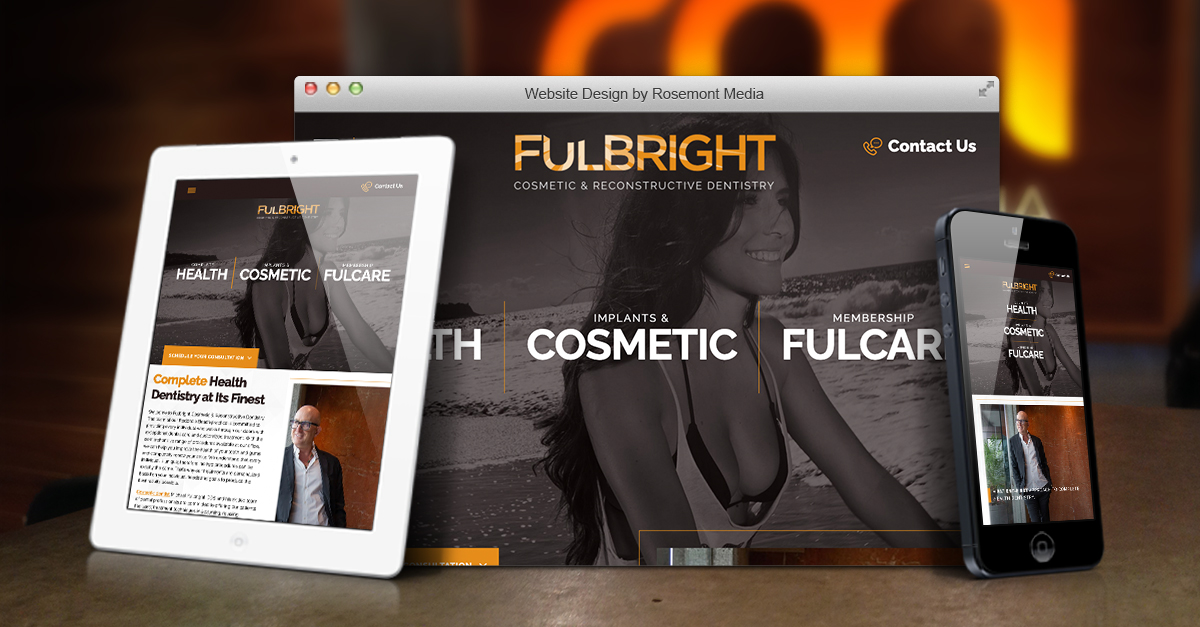 Project Details:
Launch Date:
December 2020
Page Count:
48
Services Overview:
Custom Responsive Design, SEO, Custom Content, CMS, Photo Gallery, and Blog
Compatibility:
Desktop, Tablet, Mobile
Visit Website:
Categories:
Rosemont Media has had the pleasure of working with Dr. Michael Fulbright for many years. Dr. Fulbright, a well-known dentist in Redondo Beach and Manhattan Beach, recently decided to give his existing website a top-to-bottom upgrade incorporating many of the latest design and technical elements to provide viewers with an even greater virtual experience.
With an expansive 48 pages, the new website for Fulbright Cosmetic & Reconstructive Dentistry mirrors the comprehensive selection of services available from Dr. Fulbright and provides a detailed overview of the practice. The custom responsive dental website design makes it easily navigable across the spectrum of digital devices and platforms, and the new website covers just about every possible aspect of the practice to give the reader a clear and informative look at what they can expect. Complete with custom content and dental SEO strategies to help the practice maintain its excellent standing among search engine rankings, the website includes detailed pages on the variety of cosmetic, general, and restorative dental care options available, as well as a full biography of Dr. Fulbright. Before-and-after images, information on Dr. Fulbright's community outreach efforts, an updated blog, patient reviews, and other helpful pages round out the site. Additionally, the warm color scheme and the intricate layering of imagery and text can ultimately serve to provide readers with an inviting and pleasant viewing experience.
We are so excited to continue our long relationship with Dr. Fulbright and his dental team with this new, state-of-the-art website! You can view Dr. Fulbright's new site at fulbrightdental.com to see the results. If you are interested in upgrading your current website or perhaps developing a brand-new site, please don't hesitate to contact our experienced consultants at Rosemont Media today.