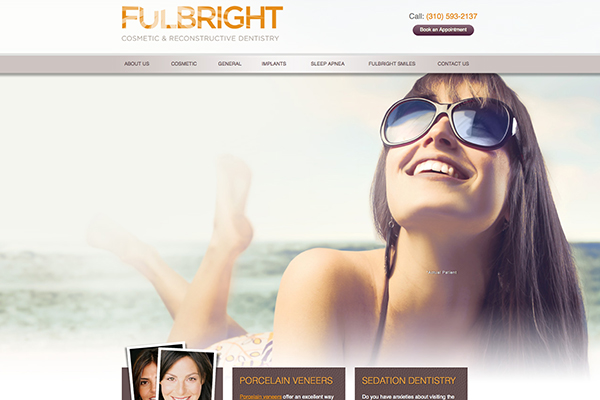 Project Details:
Launch Date:
May 2013
Page Count:
40
Services Overview:
Custom Design, JavaScript Slide Show, Custom Content, SEO, CMS, Photo Upload Gallery and Blog
Compatibility:
Desktop, Tablet, Mobile
Visit Website:
Categories:
Dr. Michael Fulbright, a cosmetic dentist in Redondo Beach, is committed to providing the highest level of patient care at his practice. With his dedication to his patients in mind, he partnered with Rosemont Media to create a clean, user-friendly responsive dental website that keeps his current and potential patients informed of services and state-of-the-art equipment used in the practice. The procedural information for general, cosmetic, and restorative techniques offered can be accessed through a simple drop-down menu. The responsive design makes it convenient and easy for patients to find what they are looking for, regardless of if they are viewing the site on a computer, smartphone, or tablet.
Equipped with dental SEO and informational pages on frequently searched topics, such as Invisalign®, porcelain veneers, and teeth whitening, the sleek new website gives Dr. Fulbright a competitive edge in the dental market. Elegantly designed with beautiful photographs and bright colors, this site is welcoming and inviting to the viewer. Dr. Fulbright's enthusiasm for high quality patient care is mirrored in the attention to detail put into his practice's dental website design by our experienced team of designers, developers, and writers.
To see how a customized responsive website from Rosemont Media can benefit your practice and patients, visit fulbrightdental.com.