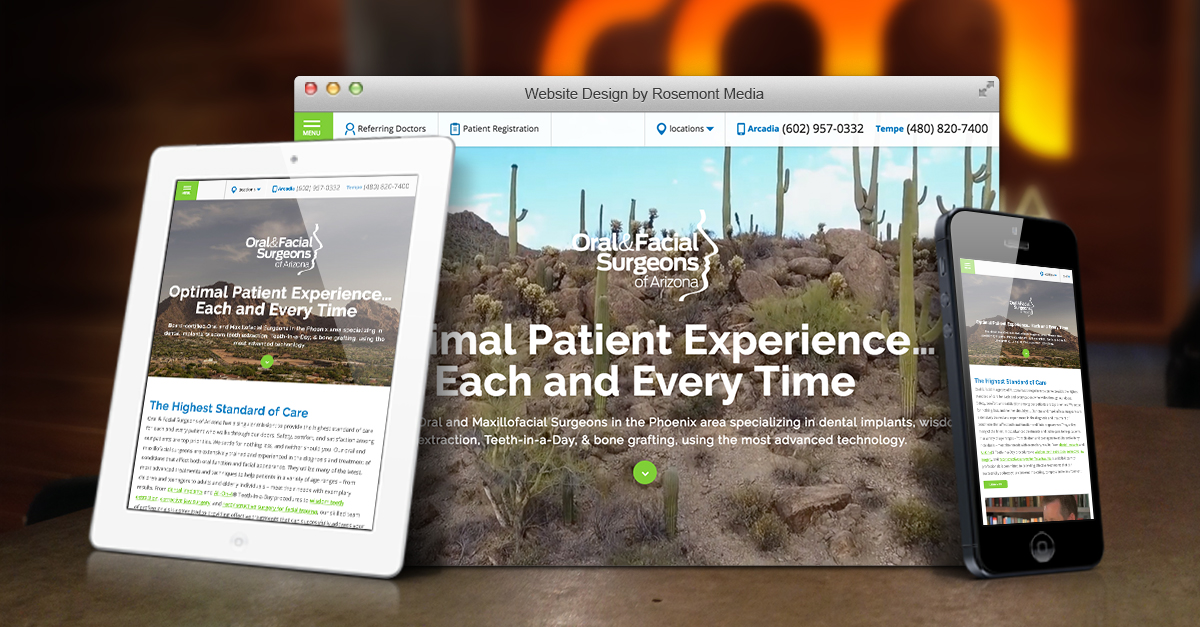 Project Details:
Launch Date:
September 2018
Page Count:
23
Services Overview:
Custom Responsive Design, SEO, Custom Content, CMS, and Blog
Compatibility:
Desktop, Tablet, Mobile
Visit Website:
Categories:
The doctors at Oral & Facial Surgeons of Arizona, a comprehensive practice offering maxillofacial surgery and oral surgery in Phoenix and Tempe, wanted a contemporary new website that reflected their advanced treatment options and the practice's commitment to high-quality care. Our team's collaboration has resulted in a unique responsive website that showcases what they offer amidst a backdrop featuring the stunning landscape that surrounds their community. The sleek new site includes drone video footage of the mountains and desert valleys of Arizona prominently featured as the top header on the home page, offering a kinetic and inviting first glimpse of the area. In addition, the site features parallax scrolling and a fixed navigation, which allows viewers to more easily access the main menu and contact information. Detailed biographies, an overview of the practice's mission, online reviews, forms for doctor referrals, and comprehensive pages devoted to procedure descriptions and patient information round out this beautiful new website. And with the latest dental SEO strategies in place, Oral & Facial Surgeons of Arizona is well-positioned to climb even higher in search engine rankings.
Head to oralsurgeryarizona.com to take a look at this innovative website, and contact Rosemont Media to learn how you can take advantage of the latest design techniques and technologies that can make your website stand out!