Fairfield County Plastic Surgeon Launches Specialty Rhinoplasty Website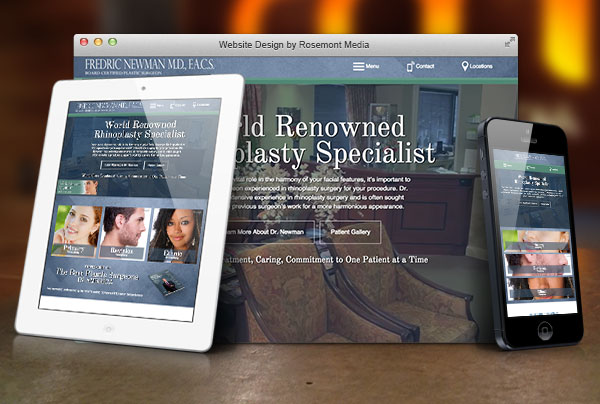 Fredric Newman, MD, FACS announces the launch of his new website that was created as a specialty resource for those interested in rhinoplasty surgery.
Darien, CT – Among the many plastic surgery procedures he performs at The Aesthetic Surgery Center, Dr. Fredric Newman, a board-certified plastic surgeon in Fairfield County, is especially passionate about offering rhinoplasty. He recognizes the procedure as one of the most complex facial surgeries, which is why he continues to hone his skills and strives to provide exceptional results. To help patients learn about nose surgery, as well as to communicate his expertise with the procedure, Dr. Newman is proud to announce the recent launch of his practice's specialty website devoted to rhinoplasty.
The new website was created with detailed information about such areas as primary, secondary, and ethnic rhinoplasty procedures. To educate viewers on what they could potentially achieve when undergoing these procedures, video testimonials are available to hear about previous patients' experiences. Additionally, the site offers an elaborate photo gallery with before and after pictures, as well as detailed descriptions about each case.
Dr. Newman is pleased to offer the informative resource with unique visual elements for an enhanced viewing experience. Such features include the fixed video background on the homepage – which helps portray Dr. Newman's gentle bedside manner – as well as user-friendly navigation throughout the entire site.
For the development of his new specialty website, Dr. Newman worked closely with Rosemont Media – a plastic surgery website design firm. Through this collaboration, Dr. Newman was able to communicate his philosophy of "World Class Treatment, Caring, Commitment to One Patient at a Time" through all aspects of the website. He hopes the new resource will help potential patients learn more about the surgery, as well as what they should look for in their specialist.
About Fredric Newman, MD, FACS
Dr. Newman has been performing cosmetic and reconstructive surgery for more than 30 years. He earned his medical degree from SUNY Downstate Medical Center, graduating summa cum laude, and continued to Harvard Medical School for his general surgery training. Dr. Newman then completed a residency at New York University Institute of Reconstructive Plastic Surgery. He stays active in the medical community through his role as a Diplomate of the National Board of Medical Examiners, the American Board of Plastic Surgery, and the American Board of Surgery; a Fellow of the American College of Surgeons and the International College of Surgeons; as well as a Member of the American Society for Aesthetic Plastic Surgery and the American Society of Plastic Surgeons. Dr. Newman is available for interview upon request.
The practice can be reached online at fredricnewmanmd.com and facebook.com/pages/Fredric-Newman-MD-Aesthetic-Surgery-Center/119873104696021.