Florida Plastic Surgeon Upgrades Website to Facilitate Online Patient Research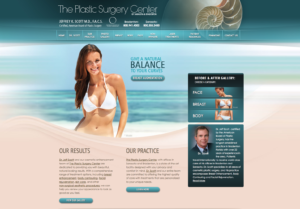 Dr. Jeffrey Scott of The Plastic Surgery Center announces the recent redesign of his practice's website and highlights its key features tailored to enhance user experience.
Sarasota, FL — In response to the continuous progression of the digital age, Sarasota plastic surgeon Jeffrey K. Scott, MD recently teamed with medical website design firm Rosemont Media to transform his website into a more comprehensive, patient-friendly plastic surgery resource. Designed to reflect the comfortable and inviting atmosphere conveyed throughout his practice, The Plastic Surgery Center website now features an upgraded layout with a number of elements intended to enhance user experience.
As a board-certified plastic surgeon with over 22 years of experience, Dr. Scott says he believes patient education prior to treatment has always been essential to achieving successful results. For this reason, he was adamant about equipping his site with features tailored to aid patients as they research their procedures of interest. Some key features of the website include:
Drop-down navigational tabs providing access to each page
Detailed procedural pages spanning from breast augmentation to nonsurgical rejuvenation
Before-and-after photo galleries showcasing previous patient results
Patient resources including assistance and travel suggestions for out-of-town patients
Links to patient reviews and the practice's Facebook page
Furthermore, The Plastic Surgery Center site is now equipped with both a Blog and a News Room. Dr. Scott says these two pages are excellent resources from which patients can read blog entries and press releases written about recent practice news, innovative technologies, new surgical techniques, and much more.
Now that his site has been upgraded, Dr. Scott says he looks forward to the opportunity to further share his medical knowledge and expertise with current and prospective patients seeking cosmetic care. The Sarasota plastic surgeon adds that he encourages patients to contact his practice via phone, email, or the "Contact Us" page should they have any questions or concerns regarding cosmetic surgery.
About Jeffrey K. Scott, MD, FACS
A graduate of the University of Oklahoma, Dr. Jeffrey Scott earned his medical degree from the University of Kansas School of Medicine with top honors. He is certified by the American Board of Plastic Surgery, and he is a Fellow of both the American Society of Plastic Surgeons and the American College of Surgeons. Dr. Scott is available for interview upon request.
For more information about Dr. Scott and The Plastic Surgery Center, visit floridacosmeticsurg.com and facebook.com/theplasticsurgcenter.