Honolulu Plastic Surgeon Launches Expansive New Website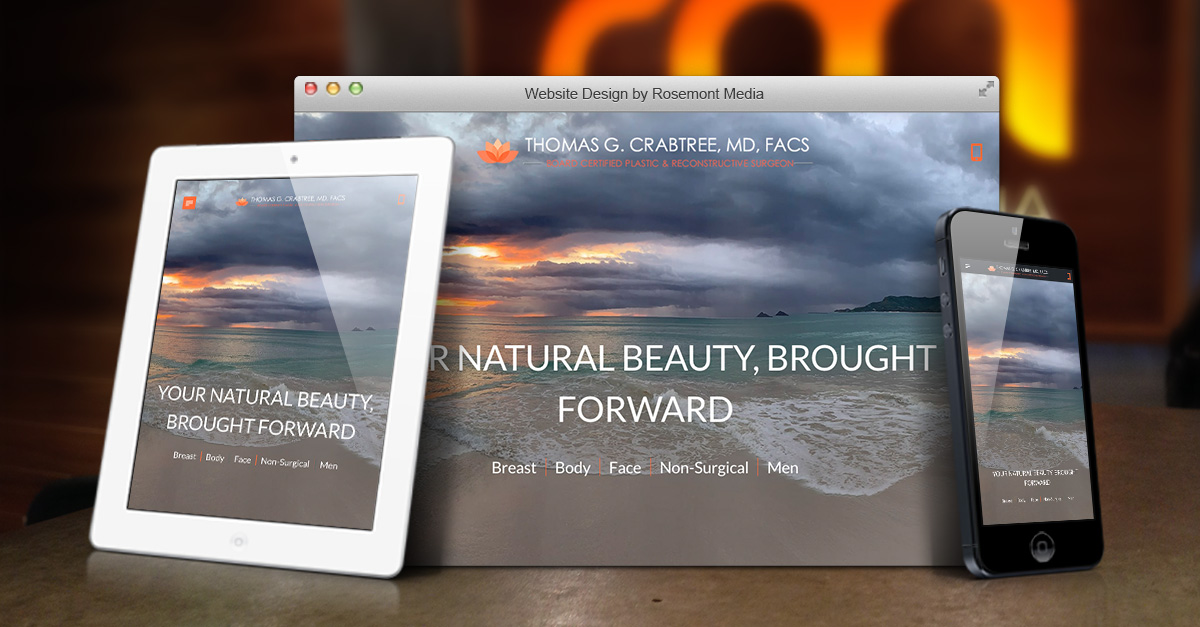 Dr. Thomas Crabtree of Crabtree Plastic Surgery in Honolulu and Kailua is unveiling a brand-new website offering a comprehensive overview of his practice. He hopes the site will serve to provide readers with a thorough educational resource on advanced surgical and non-surgical cosmetic enhancement treatments.
Honolulu, HI – Dr. Thomas Crabtree, a board-certified plastic surgeon in Honolulu and Kailua, is announcing the launch of a new website designed to provide viewers considering plastic surgery and non-surgical aesthetic enhancement with an expansive educational resource on procedures available at his practice. As the head of Crabtree Plastic Surgery, a practice with offices in both Honolulu and Kailua, Dr. Crabtree says the new website offers a detailed look inside his practice and can ultimately help both women and men obtain a deeper understanding of what specific treatments are capable of and what they can expect from their experience.
Dr. Crabtree's new website is not only designed to give viewers an abundant amount of information regarding state-of-the-art treatment options, but also a pleasant, easy-to-navigate experience on many of the most popular technological devices. Custom-built with responsive website design capabilities, it can be viewed in full on smartphones, tablets, and laptops while providing the same depth of content and accessibility that can be found on the desktop computer version of the website. Incorporating a truly Hawaiian design scheme with imagery that highlights the lush vistas, majestic ecosystem, and ocean horizons the islands are known for, Dr. Crabtree's new site offers viewers an exciting look inside the practice complete with numerous pages on a variety of helpful topics.
In addition to a biography of Dr. Crabtree and comprehensive information on procedures such as breast augmentation, facelift, tummy tuck surgery, and other surgical treatments for the face, breasts, and body, the website includes several pages devoted to describing the many non-surgical cosmetic enhancement options available at the practice. Those include an array of cosmetic injectables, as well as PRP (platelet-rich plasma) therapy and wellness & weight loss treatment. Plus, the site includes access to Dr. Crabtree's online skin care shop featuring an array of products that can be integrated into at-home skin health and beauty regimens.
The new website is the result of Dr. Crabtree's collaboration with Rosemont Media, a medical website design firm based in San Diego. Dr. Crabtree says patient education is of vital importance for individuals who are considering the possibility of plastic surgery or non-surgical options to enhance their appearance. Ultimately, he hopes the site will serve as an extensive resource that can provide viewers with thorough information on how certain procedures may be able to help them achieve their goals, as well as an informative introduction to his practice and his commitment to producing beautiful, natural-looking results.
About Thomas G. Crabtree, MD, FACS
Dr. Thomas Crabtree is a board-certified plastic surgeon and the head of Crabtree Plastic Surgery in Honolulu and Kailua. Dr. Crabtree is a Fellow of the American College of Surgeons, a member of the American Society of Plastic Surgeons, and a past President of the Hawaii Plastic Surgery Society. A graduate of Harvard University and Stanford University, Dr. Crabtree served as a surgeon in the U.S. Army for 24 years, where he held positions including Chief of Plastic Surgery and Consultant to the Surgeon General for Plastic Surgery. He has been recognized in Honolulu Magazine's "Top Doctors" list for 20 consecutive years and lends his time and medical expertise to a variety of humanitarian causes. Dr. Crabtree is available for interview upon request.
For more information about Dr. Thomas Crabtree and his plastic surgery practice, please visit crabtreeplasticsurgery.com or facebook.com/thomasgcrabtreemd.
Contact:
Crabtree Plastic Surgery – Kailua, HI
970 N Kalaheo Ave
Suite #C 108
Kailua, HI 96734
(808) 226-9220
Crabtree Plastic Surgery – Hawaii Kai
6700 Kalanianaʻole Hwy
Suite #217
Honolulu, HI 96825
(808) 366-5155
Rosemont Media
(858) 200-0044
www.rosemontmedia.com