Jacksonville Plastic Surgeons Announce the Launch of New Responsive Website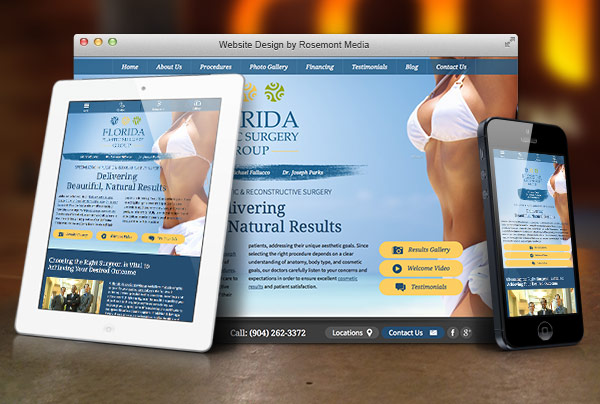 The surgeons at Florida Plastic Surgery Group recently launched a new practice website that has responsive capabilities for an enhanced viewing experience.
Jacksonville, FL – In an effort to improve its online presence, Florida Plastic Surgery Group has upgraded its practice website. The new site was designed with the goal of creating a more user-friendly viewing experience for patients. To achieve this, the Jacksonville plastic surgeons have organized their comprehensive collection of procedural information in an attractive new layout that adjusts to the viewer's online device.
As a responsive website, patients can see each page in its entirety, whether they are accessing the Internet on their phone, tablet, or computer. While people would traditionally have to scroll back and forth to see all of the content, Florida Plastic Surgery Group has implemented the advanced responsive capability to help patients more easily navigate through its website.
In addition to its adjustable format, the practice's website holds numerous procedural pages organized in a convenient drop-down menu. Whether the viewer is searching for breast augmentation information, financing options, or the before-and-after photo gallery, every page has been placed in a relevant list to help patients find what they need. With this improved layout, the surgeons believe their website can be a better resource during the research process.
To design its new website, Florida Plastic Surgery Group collaborated with medical website design firm Rosemont Media. With its advanced new features, the plastic surgery website has become an educational, convenient, and valuable resource, all of which are characteristics the team strives to extend throughout every part of its practice.
Florida Plastic Surgery Group
The surgeons at Florida Plastic Surgery Group offer a variety of cosmetic and reconstructive plastic surgery procedures to patients of the Jacksonville area. The experienced team is composed of Dr. Ankit Desai, Dr. Michael Fallucco, and Dr. Joseph Parks, all bringing unique talent to the practice. Each of the practice's surgeons has been recognized for his excellence in the plastic surgery field, having been named Top Doctors by Jacksonville Magazine. The surgeons are available for interview upon request.