Midland, TX Hand Surgeon Launches Custom Specialty Website with Responsive Design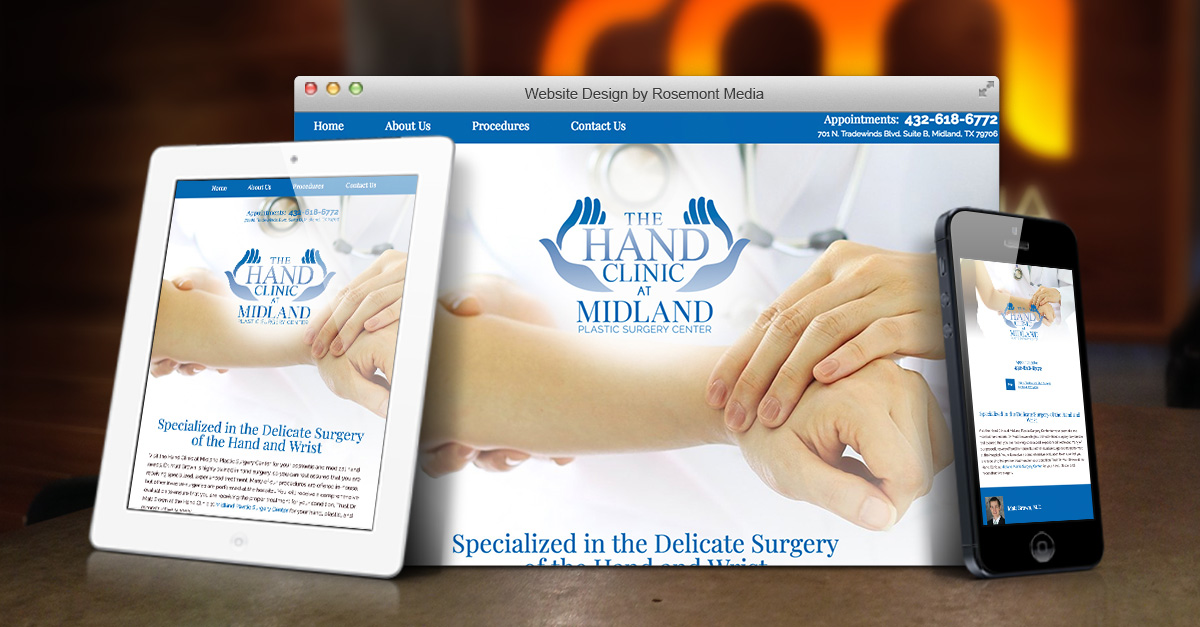 Midland Plastic Surgery Center shines a spotlight on the work of Hand Surgeon Matt Brown, MD with a modern new website dedicated to reconstructive and cosmetic hand procedures.
Midland, TX – Injuries and conditions of the hand and wrist often require the advanced skill of a plastic surgeon who has undergone extensive education in the delicate art of hand surgery. Midland Plastic Surgery Center, which provides a full spectrum of cosmetic and reconstructive plastic surgery procedures, offers such specialty hand and wrist services. Midland hand surgeon Matt Brown, MD, treats patients of all ages at the Hand Clinic at Midland Plastic Surgery Center. He recently called on the experienced team at Rosemont Media—a digital marketing agency in San Diego—to create a custom, responsive design website dedicated to his areas of expertise.
Together with Rosemont Media, Dr. Brown was able to develop a modern, one-page microsite with a streamlined aesthetic and advanced functionality. The cerulean-accented design includes parallax scrolling, allowing sections of text and structural blocking to float in front of a soft collage of photos featuring hands in action. The varied portions of the page introduce the Hand Clinic, educate patients about the practice of hand surgery, display Dr. Brown's credentials, present his educational background, and provide a comprehensive list of the many services he performs.
The responsive design feature allows Dr. Brown's website to be viewed on any Internet-compatible device—whether it is a smartphone, tablet, laptop, or desktop computer. The site is also equipped to receive new patient inquiries and appointment requests through the secure contact form embedded in the final segment of the microsite page. Ultimately, Dr. Brown believes that his new website will be a quick, useful, and educational tool for individuals in search of an experienced hand surgeon.
About Matt Brown, MD
Dr. Brown is a board certified plastic surgeon who has undergone extensive training in surgery of the hand. After receiving his Medical Degree from Texas A&M University and completing his Plastic and Reconstructive Surgery Residency at Case Western Reserve University, Dr. Brown continued his education with a Surgery of the Hand Fellowship at University of Michigan. Currently, Dr. Brown is a hand surgeon the Hand Clinic at Midland Plastic Surgery Center where he performs a wide range of treatments and corrective surgeries for the hand and wrist. His areas of practice include cosmetic treatments for the hands, hand reconstruction, hand trauma repair, and treatment for adult and pediatric hand conditions. He is available for interview on request.
For more information, visit midlandhandsurgery.com or facebook.com/midlandhandsurgery.
Contact:
Dr. Matt Brown
Hand Clinic at Midland Plastic Surgery Center
701 N. Tradewinds Blvd Suite B
Midland, Texas 79706
(432) 618-6772
Rosemont Media
(858) 200-0044
www.rosemontmedia.com