Ottawa Plastic Surgeons Announce Launch of New Website for Multi-Specialty Practice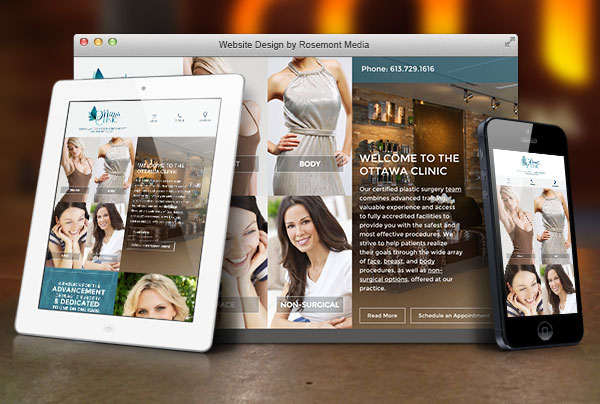 The Ottawa Clinic launches their new practice website utilizing innovative design elements to present a wealth of procedural information for patient education.
Ottawa, ON —As part of its mission to help patients learn what they can achieve through plastic surgery and dermatology, The Ottawa Clinic recently launched a new practice website. The site is equipped with a wealth of information about skin care and cosmetic procedures to educate viewers on what they can expect from a variety of treatment options. By utilizing innovative design elements, the team hopes to provide a pleasant and informative online viewing experience.
As a multi-specialty practice, The Ottawa Clinic offers a wide range of procedures to address a variety of needs. This comprehensive list of options has been organized on the website through a unique vertical layout with the navigation menu fixed to the left of the page for better usability. The website was also equipped with tools like the "Cosmetic Possibilities" section on the homepage, which allows visitors to explore beneficial options by age.
In addition to educating the public on available plastic surgery and dermatology procedures, The Ottawa Clinic's new website also offers details to help people learn about their office. This includes a photo tour of the office, information for out-of-town patients, and access to outside social media and patient review websites.
For the creation of their new website, The Ottawa Clinic teamed up with plastic surgery website design firm Rosemont Media. Through this partnership, the website was developed with state-of-the-art design features, as well as original content utilizing the latest in medical SEO practices. The new site was also created with responsive capabilities, which causes the layout to automatically readjust to the dimensions of the user's Internet device.
Overall, The Ottawa Clinic hopes its new practice website will help visitors find the information for which they are looking and become a valuable resource for plastic surgery and dermatology.
About The Ottawa Clinic
The Ottawa Clinic is the first practice in the National Capital Region to offer comprehensive plastic surgery and dermatology care. The team is composed of plastic surgeons Trefor Nodwell, MD CM; Sachin Chitte, MD; and Michel Gallant, MD; as well as dermatologist Jillian Macdonald, MD. Each doctor of the clinic is certified by the Royal College of Physicians and Surgeons of Canada, which indicates their extensive training in the medical field. The practice is dedicated to staying up-to-date with the latest medical advancements, while providing compassionate and knowledgeable care. The doctors are available for interview upon request.
To learn more about The Ottawa Clinic, visit theottawaclinic.com or facebook.com/pages/The-Ottawa-Clinic/288765704570938.