San Francisco Plastic Surgeon Announces Responsive Update to Practice Website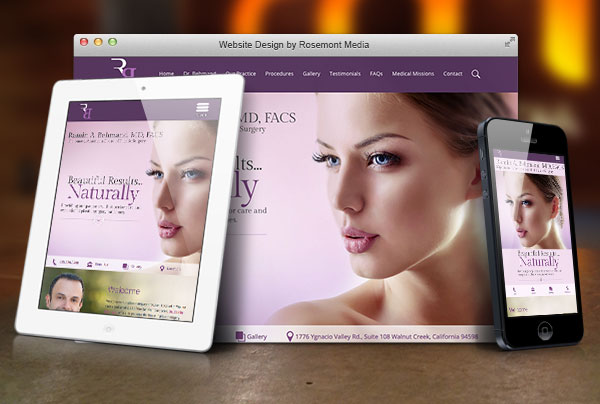 Dr. Ramin A. Behmand recently introduced the updated format of his practice's website, which includes responsive capabilities, an easily navigable interface, and an expansive compendium of medical information.
Walnut Creek, CA— To reach a greater number of existing and potential patients, Dr. Ramin A. Behmand, a plastic surgeon in San Francisco, recently teamed up with medical website design company Rosemont Media to upgrade his practice website with responsive capabilities. The advanced format is designed to provide a more informative, engaging, and visually appealing user experience when logging on from mobile devices and desktop computers. Additionally, the Internet marketing firm also implemented leading medical SEO strategies to favorably position the site within its online marketplace.
The new adaptable layout allows visitors with Internet-compatible mobile devices, including smartphones, tablets, and laptops, to easily access the site's comprehensive selection of medical content without having to pan, zoom, and scroll horizontally to view the entire page. This can be particularly beneficial, Dr. Behmand explains, for users researching before and after photos, patient testimonials, and procedural information to help make well-informed decisions about their treatment. Furthermore, the site is outfitted with innovative design elements, such as a fixed image background on the homepage, and enhanced functionality to create a welcoming online destination for users seeking a reliable resource on popular cosmetic procedures, including breast augmentation and rhinoplasty.
Ultimately, Dr. Behmand says he endeavors to offer an exceptional patient experience from the initial consultation through the completion of treatment, and excellence of service should begin with the practice website, which serves as a virtual office. With his newly updated site, he hopes he can educate residents of the San Francisco Bay Area and beyond who are considering cosmetic enhancement of the face, breasts, and/or body, as well as encourage them to seek out a board-certified plastic surgeon when undergoing any aesthetic procedure.
About Ramin Behmand, MD, FACS
Educated at the Case Western Reserve University School of Medicine, Dr. Behmand is a board-certified plastic surgeon practicing in the San Francisco Bay Area. After earning his medical degree with honors, he completed an intensive six-year training program in plastic surgery at the University of Michigan, where he concentrated on a variety of complex techniques, including advanced approaches to facial plastic surgery. He is a member of several esteemed medical organizations, including the American Society of Plastic Surgeons (ASPS), the American Society for Aesthetic Plastic Surgery (ASAPS), and The Rhinoplasty Society. He is also a clinical assistant professor at the University of California, San Francisco, where he educates residents and fellows from the Plastic and Reconstructive Surgery Division of the institution. Dr. Behmand is available for interview upon request.
For more information about Dr. Behmand and his practice, please visit drbehmand.com.