San Jose Plastic Surgeons Reveal Their Practice's New Responsive Website Design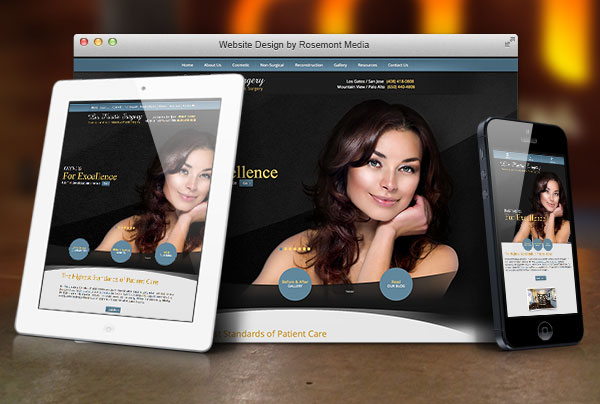 Dr. Jerome H. Liu and Dr. Tom S. Liu recently unveiled their practice's new adaptable website, which offers an enhanced, user-friendly experience.
San Jose, CA— Explaining they are committed to providing patients with reliable information and high-quality medical care, San Jose plastic surgeons Jerome Liu, MD and Tom Liu, MD, recently upgraded their practice's website. Specifically designed to enhance user experience, the new format offers in-depth procedural information organized into an attractive layout accessible via all Internet-compatible devices.
Created in collaboration with medical marketing company Rosemont Media, the new site features an innovative responsive design that allows individuals to perform research on-the-go without the panning and zooming associated with traditional formatting. When viewed on a smartphone, tablet, laptop, or desktop computer, the dimensions automatically adjust to fit the screen being used. As a result, users can see the entire page without having to scroll left or right, ultimately providing a smoother browsing experience.
In addition to the easily-navigable interface, an appealing layout with drop-down menus makes it more convenient to find doctor biographies, contact information, and comprehensive overviews of procedures available at the practice. Dr. Jerome Liu and Dr. Tom Liu perform a broad range of popular cosmetic enhancements, including breast augmentation, rhinoplasty, and tummy tuck (abdominoplasty), as well as facial rejuvenation treatments such as BOTOX® Cosmetic and dermal fillers.
Ultimately, Dr. Jerome Liu and Dr. Tom Liu say they seek to provide current and prospective patients with an enjoyable browsing experience and a comprehensive resource on a number of cosmetic procedures. By utilizing advanced medical SEO strategies, they are able to increase their online presence and web ranking to help individuals find the information they are seeking most.
About Liu Plastic Surgery
Established in 2010, Liu Plastic Surgery is a San Jose aesthetic enhancement practice led by two board-certified plastic surgeons – Jerome Liu, MD and Tom Liu, MD – and an experienced team of aestheticians and patient coordinators. In addition to breast augmentation, rhinoplasty, facial aesthetics, and body contouring procedures, the practice offers a diverse array of non-surgical cosmetic treatments, including dermal fillers and Ultherapy®. Dedicated to patient care, Liu Plastic Surgery focuses on its core principles and values of excellence, integrity, compassion, professionalism, and service.
For more information about Dr. Jerome Liu, Dr. Tom Liu, and their practice, please visit liuplasticsurgery.com.