Sydney Plastic Surgeon Unveils Practice's New Responsive Website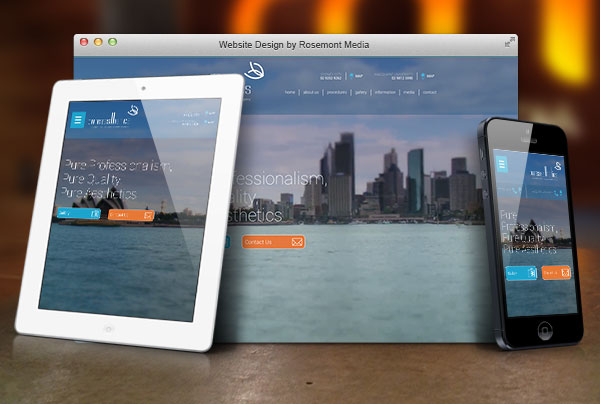 Dr Steve Merten of Pure Aesthetics announces the launch of his new plastic surgery website that has been designed with a dynamic layout and responsive capabilities.
Sydney, NSW – As part of his commitment to providing patients with the best care possible, Sydney plastic surgeon Dr Steve Merten has upgraded his practice website to a new design with responsive potential. The newly made-over online resource was created to help patients find valuable information about plastic surgery procedures, ranging from breast enlargement to facelift surgery, in an organised and attractive layout. With the launch of the new Pure Aesthetics website, Dr Merten believes viewers can benefit from a more productive research experience.
When an online user visits the plastic surgery website, they will find a horizontal navigation bar that presents a wide array of topics, including the practice philosophy, procedures, before-and-after gallery, as well as additional information. Dr Merten is pleased to offer such an expansive website to current and potential patients, noting that his website is provided to educate people and answer any preliminary questions they may have. Additionally, with the responsive formatting, he says viewers can expect a more user-friendly experience.
As more people are accessing the Internet on a variety of devices, be it smartphone, tablet, or personal computer, the need for an adjustable screen size is increasingly important. Instead of having to scroll across the width of each page to see the extent of the content, the Pure Aesthetics website will automatically resize to fit the dimensions of the viewer's device. Dr Merten is proud to utilise the automatic nature of responsiveness to provide viewers with a built-in factor of convenience.
In the creation of his new practice website, Dr Merten collaborated with responsive website design firm Rosemont Media. The site was developed using the latest advancements in website design as well as original content that has been optimised using the most up-to-date SEO strategies. Dr Merten looks forward to reaching more people with the comprehensive resource and providing visitors with an enhanced viewing experience.
About Steve Merten, FRACS
Dr Steve Merten has undergone extensive training and education to be the accomplished plastic surgeon that he is today. He earned his medical degree from Sydney University and completed Fellowships in Aesthetic (Cosmetic) Surgery at both the Melbourne Institute of Plastic Surgery and Monash University. In addition to his work at Pure Aesthetics, Dr Merten was named Clinical Senior Lecturer in Cosmetic Plastic Surgery at Macquarie University, Sydney. He is involved in several professional organisations including the Australian Society of Plastic Surgeons, the Australasian Medical Association, and the Australasian Society of Aesthetic Plastic Surgery. He is available for interview upon request.