Toronto Plastic Surgeon Unveils Sleek New Website with Cutting-Edge Design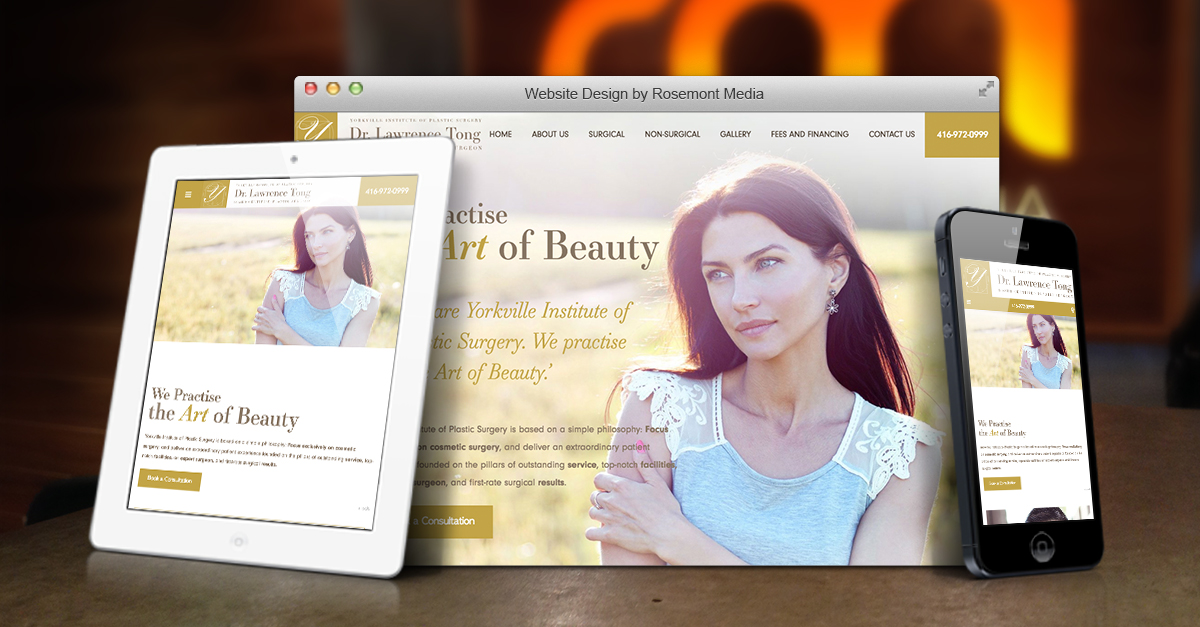 Lawrence Tong, MD, FACS, FRCSC of The Yorkville Institute of Plastic Surgery provides an in-depth look at the array of surgical and non-surgical services offered at his Toronto practice via a custom-designed and fully-responsive plastic surgery website.
Toronto, Ontario, Canada— Board-certified plastic surgeon Lawrence Tong, MD recently collaborated with Rosemont Media, LLC—a digital marketing company based in San Diego—to create a state-of-the-art website for his Toronto practice, The Yorkville Institute of Plastic Surgery. Seeking an all-encompassing educational resource for his patients, as well as an easily accessible platform from which he could illustrate every step of the treatment process, Dr. Tong completely modernized his web presence with an attractive and user-friendly site capable of interaction on all devices.
The elegant and aesthetically pleasing plastic surgery resource boasts a fully responsive website design adaptable to laptops, desktop computers, tablets, and smartphones alike, a measure that can ensure users have a seamless online experience whether they are at home or on-the-go. A wealth of need-to-know patient information is cleanly showcased on custom-written procedure pages, where useful content thoroughly details treatment benefits, candidacy requirements, surgical techniques, recovery instructions, procedural costs, and more. Dr. Tong also provides an extensive walkthrough of the treatment process, informing prospective patients of exactly what happens from the initial consultation to the day of surgery to one's follow-up appointment. Furthermore, a sleek before-and-after gallery of previous patients features examples of Dr. Tong's work while giving visitors a look into what can potentially be achieved with any given procedure.
His new website has also been outfitted with the latest best practices in search engine optimization, as well as content marketing, to ensure this valuable information is being seen by the patients who are seeking it out. This innovative web resource, Dr. Tong states, is offered in the hopes that it will help prospective patients make informed decisions about their potential aesthetic treatments. According to Dr. Tong, one of the most important aspects of cosmetic enhancement is meticulous patient education. With transparent depictions of many different aspects of surgical or non-surgical treatment, Dr. Tong hopes this comprehensive online tool functions as a cursory introduction into The Yorkville Institute of Plastic Surgery that users can explore from the comfort of their own surroundings.
About Lawrence Tong, MD, FACS, FRCSC
Dr. Lawrence Tong is a plastic surgeon with dual board-certification from both the American Board of Plastic Surgery and the Royal College of Physicians and Surgeons of Canada. He completed his training in Plastic and Reconstructive Surgery at the acclaimed University of Michigan Medical Center and subsequently spent nearly a decade in private practice in the United States before establishing The Yorkville Institute of Plastic Surgery. Dr. Tong is a member of the American Society of Plastic Surgeons (ASPS) as well as the American Society of Aesthetic Plastic Surgeons (ASAPS). At his Toronto-based practice, Dr. Tong focuses on cosmetic enhancement of the face, breasts, body, and skin.
To learn more, visit www.myplasticsurgerytoronto.com and www.facebook.com/MyPlasticSurgeryToronto. Dr. Tong is available for interview upon request.
Contact:
Yorkville Institute of Plastic Surgery
199 Avenue Road
Toronto, Ontario
(416) 972-0999
Rosemont Media
(858) 200-0044
www.rosemontmedia.com