West Palm Beach Plastic Surgeons Unveil New Responsive Website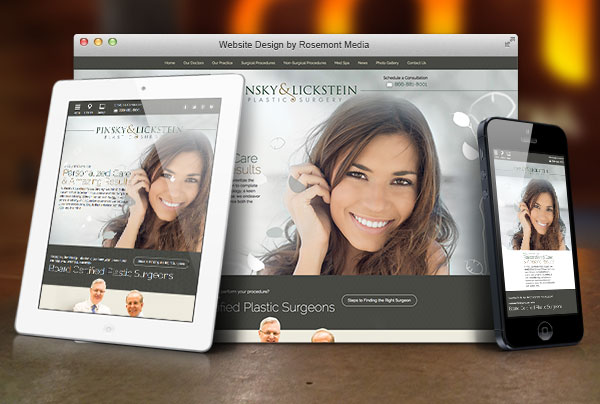 Dr. Mark Pinsky and Dr. David Lickstein recently revealed their new practice website with responsive capabilities for enhanced accessibility and a smoother browsing experience.
West Palm Beach, FL— Seeking to provide an enhanced online viewing experience, Dr. Mark Pinsky and Dr. David Lickstein, plastic surgeons in West Palm Beach, recently updated their practice's website to a responsive format. The site is designed with an appealing, easily-navigable layout that automatically adjusts to fit the screens of all Internet-compatible devices. Drs. Pinsky and Lickstein believe this innovative design will better suit the modern browsing habits of current and prospective patients.
Created in collaboration with medical website design firm Rosemont Media, the new site features a navigation bar and drop-down menus with a broad array of popular plastic surgery procedures. Intended to be a comprehensive resource on surgical and non-surgical cosmetic enhancements available at the practice, the West Palm Beach plastic surgeons provide extensive information on topics including:
Breast Lift
Male plastic surgery
Dermal fillers
In addition to the procedural content, patients using smartphones, laptops, and tablets with Internet connectivity can now browse doctor bios, contact information, and practice news without having to pan left and right or zoom in to view pages. To increase visibility, the site is also optimized with the latest medical SEO strategies designed to improve its online presence.
Ultimately, Drs. Pinsky and Lickstein explain that their goal with the new website is to provide an exceptional experience for patients by utilizing advanced technology, informative resources, and attentive care, qualities they strive to offer in every aspect of their practice.
About Pinsky & Lickstein Plastic Surgery
Led by two board-certified plastic surgeons, Dr. Mark Pinsky and Dr. David Lickstein, Pinsky & Lickstein Plastic Surgery is a cosmetic enhancement practice serving the Palm Beach Gardens and West Palm Beach area. Emphasizing individual care, the skilled team of surgeons, physicians assistants, aestheticians, and patient care coordinators at Pinsky & Lickstein Plastic Surgery focuses on creating well-informed patients through on-going education and support.
For more information about Dr. Mark Pinsky, Dr. David Lickstein, and their practice, please visit pinskylickstein.com and facebook.com/pinskylickstein.