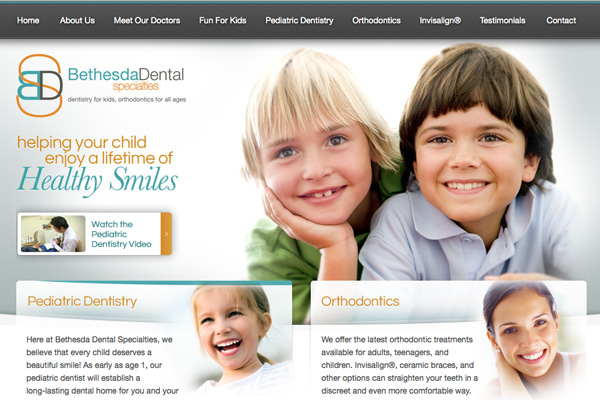 Project Details:
Launch Date:
May 2012
Page Count:
14
Services Overview:
Custom Design, CMS, JavaScript Slide Show, Custom Content, SEO, Video
Compatibility:
Desktop, tablet, Mobile
Visit Website:
www.bethesdadentalspecialties.com
Categories:
When searching online for a pediatric dentist or orthodontist in Washington, DC, patients expect the practice they choose to exude professionalism, experience, and personalized care in all facets of treatment. The new website for Bethesda Dental Specialties strives for the perfect harmony of those features by creating a positive, reassuring experience that instills confidence and trust in patients. Through partnership with our skilled team of writers, developers, and designers, Dr. Wayne Hickory and Dr. Joseph Lopez sought to display their practice's commitment to patient comfort and care in an easy-to-navigate, yet informative layout. Using the latest in dental website design techniques, Rosemont Media crafted a comprehensive website for Bethesda Dental Specialties and their focus on pediatric dentistry and orthodontics. Unique features such as video integration and relevant FAQ pages help facilitate the online patient education process. Whether patients are looking for routine cleanings for their children or an adult orthodontics option such as Invisalign®, the new site delivers extensive procedure information in a readable voice and artistic design to help meet their needs.
Combining our proven expertise in search engine optimization tactics with the accomplished reputation of the Bethesda Dental Specialties team, Rosemont Media produced a memorable, educational resource for patients that is destined for success in a competitive market.
For a closer look at the type of website Rosemont Media can create for you and your practice, visit bethesdadentalspecialties.com.