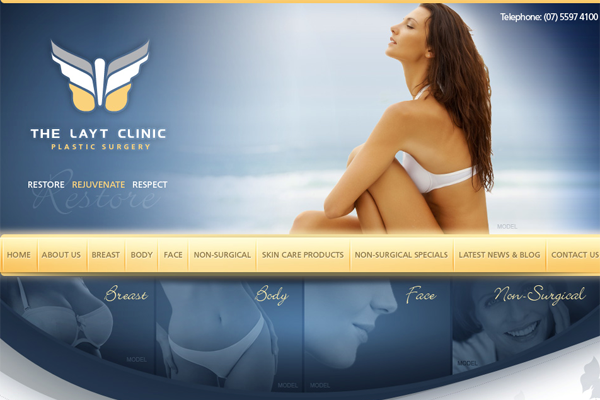 Project Details:
Launch Date:
May 2011
Page Count:
49
Services Overview:
Custom Design, SEO, CMS, Blog, and Photo Upload Gallery
Compatibility:
Desktop, Mobile
Visit Website:
Categories:
Queensland plastic surgeon Dr. Craig Layt wanted to highlight his commitment to exceptional patient care during the design of the Layt Clinic website. In collaboration with our team of graphic designers and writers, Dr. Layt has created the user-friendly and informative website he envisioned. The website incorporates the latest in medical website design, including a doctor biography, before-and-after gallery, and detailed descriptions of all procedures offered.
The website has been optimized to enhance performance on all major search engines, as well as the increasingly popular social media search functions. Facebook, Twitter, and YouTube buttons have been included to improve social media marketing efforts, and encourage patients to form an online community centering on Dr. Layt's practice.
Visit our search engine marketing blog for more information on plastic surgery marketing and website design, or take a look at www.drlayt.com to learn more about what Rosemont Media can do for your practice.