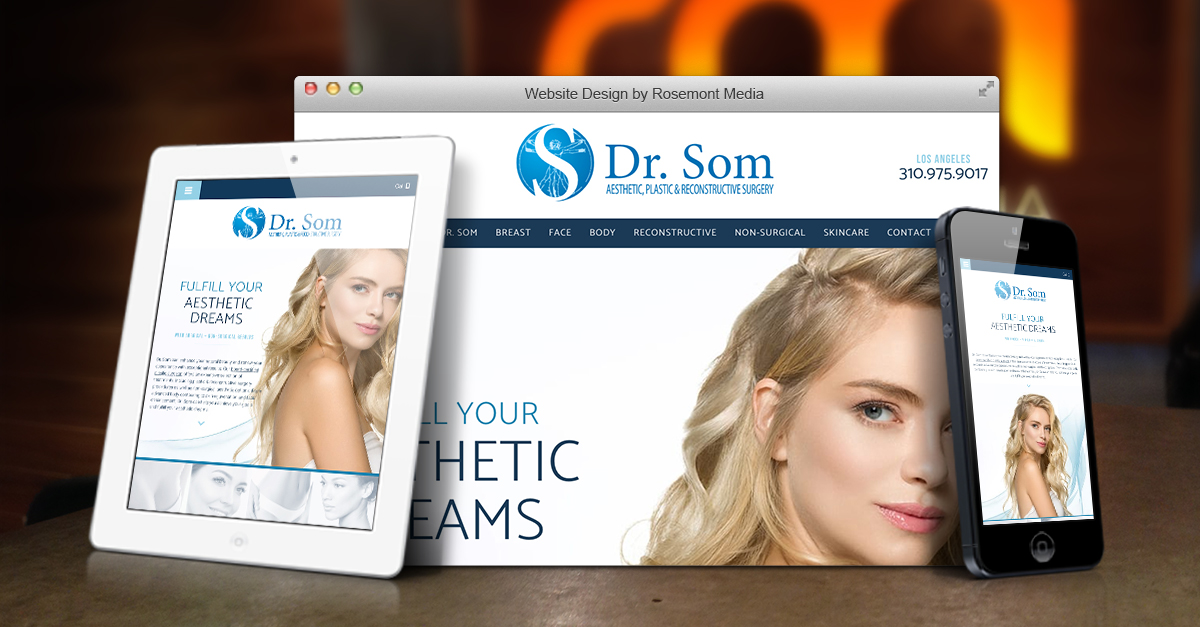 Project Details:
Launch Date:
June 2020
Page Count:
43
Services Overview:
Custom Responsive Design, SEO, Custom Content, and CMS
Compatibility:
Desktop, Tablet, Mobile
Visit Website:
Categories:
In an area such as Los Angeles, the popularity of plastic surgery and cosmetic enhancement makes it even more necessary for doctors to have comprehensive, educational, and strategically-designed websites to help them stand out. Prominent Beverly Hills plastic surgeon Som Kohanzadeh, MD, FACS recently collaborated with our team of experts here at Rosemont Media to create one. We worked closely with Dr. Som to produce a sleek new medical website that reflects the thorough, compassionate care his practice strives to provide while giving viewers an extensive look at his qualifications and the many procedures available.
The responsive website design has been customized from top to bottom and includes advanced medical SEO strategies to help Dr. Som climb even higher in search results for the crowded Los Angeles and Beverly Hills market. Custom content is spread throughout the site to describe the expansive selection of procedures offered by the practice and what patients can expect from their treatment experience. Readers can also find a detailed biography and list of credentials for Dr. Som, thoughtfully laid-out pages with content intricately combined with advanced design elements and images, a before-and-after photo gallery, and more. The overall design scheme is rich with inviting colors and beautiful imagery that invokes the majesty of coastal Southern California.
You can view Dr. Som's new website at drsom.com to see the stunning results. If you are considering an upgrade to your current website, or if you are looking to create an entirely new website for your practice, please don't hesitate to contact Rosemont Media today!