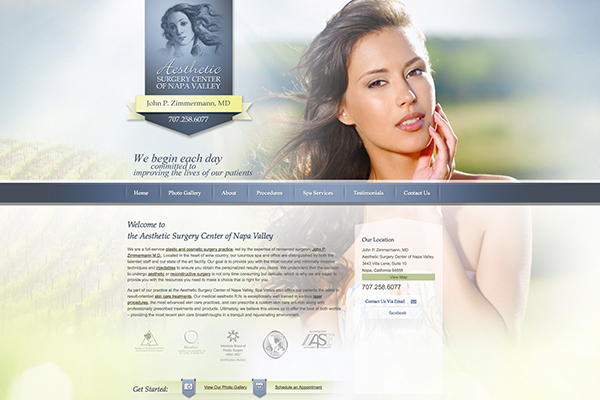 Project Details:
Launch Date:
June 2013
Page Count:
30
Services Overview:
Custom Design, JavaScript Slide Show, SEO, CMS, Photo Upload Gallery, and Blog
Compatibility:
Desktop
Visit Website:
www.napavalleyplasticsurgery.com
Categories:
In an effort to improve patient's online experiences, board-certified plastic surgeon Dr. John Zimmermann partnered with Rosemont Media for a new and improved plastic surgery website design. With bolder, brighter colors, the new design is eye-catching and easy to navigate. Dr. Zimmermann's patients are now able to access a wealth of knowledge about the surgical and non-surgical procedures offered at his practice, ranging from medical-grade skin care spa services to breast augmentation and tummy tuck. The improved layout offers menu bars that are intelligently organized, with categorized drop-down menus. There is also a sidebar menu displayed on procedural pages for easy navigation between pages. With the help and expertise of Rosemont Media's skilled staff of writers, designers, and developers, the site is now an excellent informative resource for current and potential patients. The new site for the Napa Valley plastic surgeon is also enhanced with medical SEO, boosting rankings on search engines, such as Google and Bing.
To see the innovative website design Rosemont Media was able to create for Dr. Zimmermann, please visit www.napavalleyplasticsurgery.com.