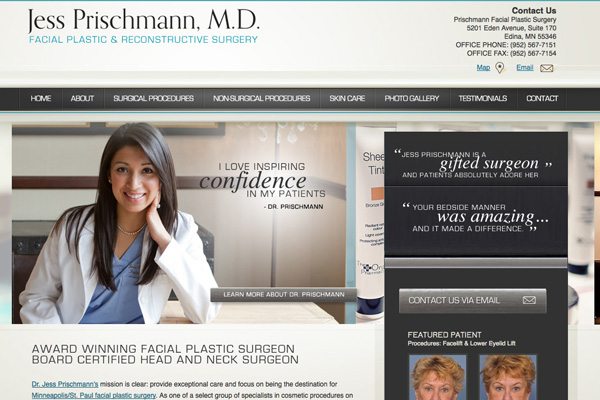 Project Details:
Launch Date:
May 2012
Page Count:
34
Services Overview:
Custom Design, CMS, SEO, Photo Upload Gallery and Blog
Compatibility:
Desktop
Visit Website:
Categories:
Dr. Jess Prischmann, a facial plastic surgeon in Minneapolis, has dedicated her entire career to providing patients with the most comfortable experience and the highest quality results possible. And when it comes to her website, she expects nothing less. In order to meet the needs of her patients through accurate, up-to-date information, Dr. Prischmann partnered with our team at Rosemont Media to design a custom website that captures both her extensive experience and gifted artistry. The new site features a professional layout bolstered by aesthetically-pleasing graphics and in-depth procedure content, ranging from surgical techniques to recovery expectations. Other enhanced components of Dr. Prischmann's website include a comprehensive photo portfolio of her results as well as social media buttons to help facilitate doctor-patient communication online. Whether patients are looking for BOTOX® Cosmetic or a facelift in Minneapolis, her new site is sure to deliver valuable guidance through various facial plastic surgery procedures with the warmth and compassion Dr. Prischman provides in her office.
Optimized using the latest SEO and facial plastic surgery website design techniques, Dr. Prischmann's new website utilizes the most advanced Internet strategy available to ensure her success in a competitive market. Rosemont Media's unprecedented skill in branding and design has helped us craft a site that will no doubt serve as the cornerstone of her practice's thriving online presence.
To get a closer look at what Rosemont Media can create for you and your practice, visit mnfacialplastics.com.