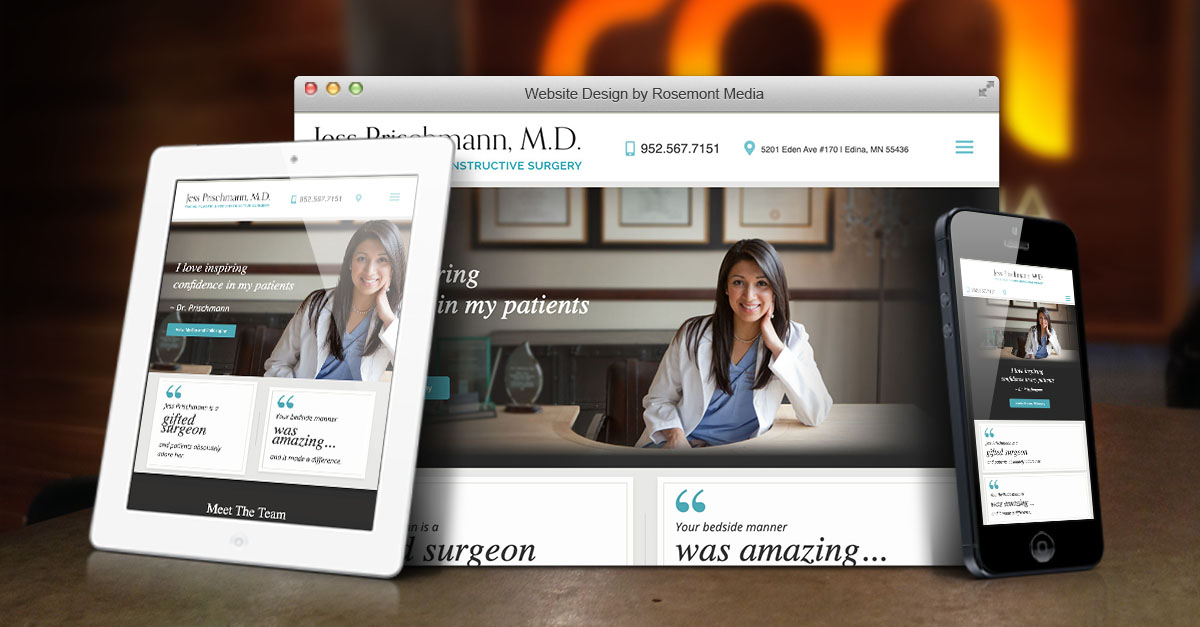 Project Details:
Launch Date:
March 2020
Page Count:
48
Services Overview:
Custom Responsive Design, SEO, Custom Content, CMS, Photo Gallery, and Blog
Compatibility:
Desktop, Tablet, Mobile
Visit Website:
Categories:
Dr. Jess Prischmann has been collaborating with Rosemont Media for many years, and she recently decided to give her existing website a full upgrade with a beautiful new look. A facial plastic surgeon in Minneapolis and the Edina area, Dr. Prischmann wanted the new site to illustrate the comprehensive selection of treatments available at her practice and her straightforward, compassionate approach to care, in addition to showcasing her experienced team of medical and aesthetic professionals. Our experts have crafted a truly innovative new website for Dr. Prischmann that offers viewers a state-of-the-art look inside her practice while providing detailed information on advanced treatments that can help them meet their needs and goals. The responsive design has a beautifully contrasting color scheme supporting a page structure that is heavily reliant on original photos, abundant and strategically-placed content, and a fixed navigation that makes it easy for the viewer to quickly find what they are looking for.
In addition to custom content and the latest medical SEO strategies, Dr. Prischmann's new site includes an expansive before-and-after image gallery, an updated blog, comprehensive biographies, testimonials interspersed with meticulously detailed pages describing specific treatments, helpful diagrams, and much more. The website has been built using a technique that makes it easily viewable in its full form on smartphones, tablets, laptops, and desktop computers, ultimately creating a seamless and accessible experience for viewers.
Please have a look at mnfacialplastics.com to see the stunning results of our latest collaboration with Dr. Prischmann, and don't hesitate to contact Rosemont Media if you are interested in a custom website designed to help your practice stand out among the rest!