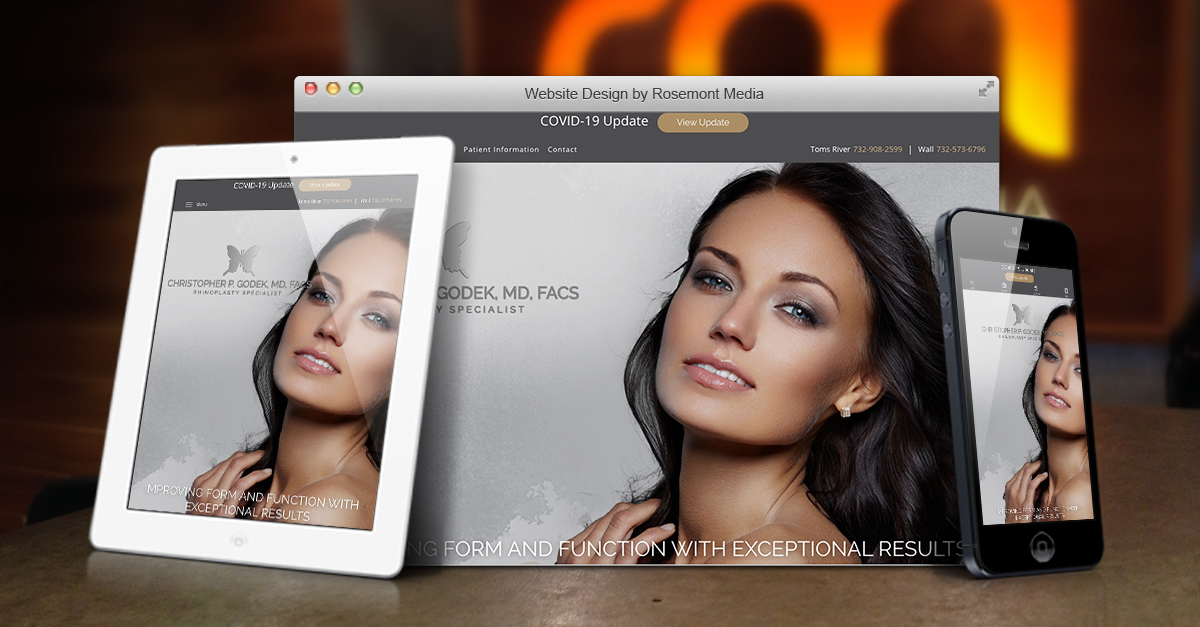 Project Details:
Launch Date:
April 2020
Page Count:
15
Services Overview:
Custom Responsive Design, SEO, Custom Content, CMS, and Photo Gallery
Compatibility:
Desktop, Tablet, Mobile
Visit Website:
Categories:
Board-certified plastic surgeon Christopher Godek, MD has been collaborating with our experts here at Rosemont Media for many years. In addition to his comprehensive websites detailing the plastic surgery and medical spa services he offers, Dr. Godek wanted us to create a specialty website exclusively focused on nose surgery for viewers considering rhinoplasty in New Jersey. Rhinoplasty is a special focus of Dr. Godek's practice, and our team has created a thorough reflection of that focus with a standalone website that offers viewers information on the variety of nose surgery procedures he performs and the exceptional results Dr. Godek has achieved with his rhinoplasty patients.
Dr. Godek's new rhinoplasty site has been custom-designed from the ground up with responsive website capabilities, which make it easily accessible and viewable in its entirety across multiple digital platforms. The site includes detailed pages filled with original content explaining each type of rhinoplasty procedure available at the practice, as well as a biography of Dr. Godek covering his extensive credentials and expertise. In addition, this 15-page specialty website is equipped with a before-and-after photo gallery featuring the results of more than two dozen rhinoplasty patients treated by Dr. Godek. Our team has also utilized the latest medical SEO strategies to help make the website stand out on search engines when viewers are looking for information on rhinoplasty and nose surgery services in the area.
Please visit rhinoplastysurgerynj.com for a closer look at the results. Specialty websites like Dr. Godek's new rhinoplasty site can be exceptional ways of drawing even greater attention to specific procedures available at your practice, allowing viewers to get an in-depth look at their options and to discover why you may be the right choice for their needs. If you would like to learn more about our custom website services, please don't hesitate to contact Rosemont Media today!