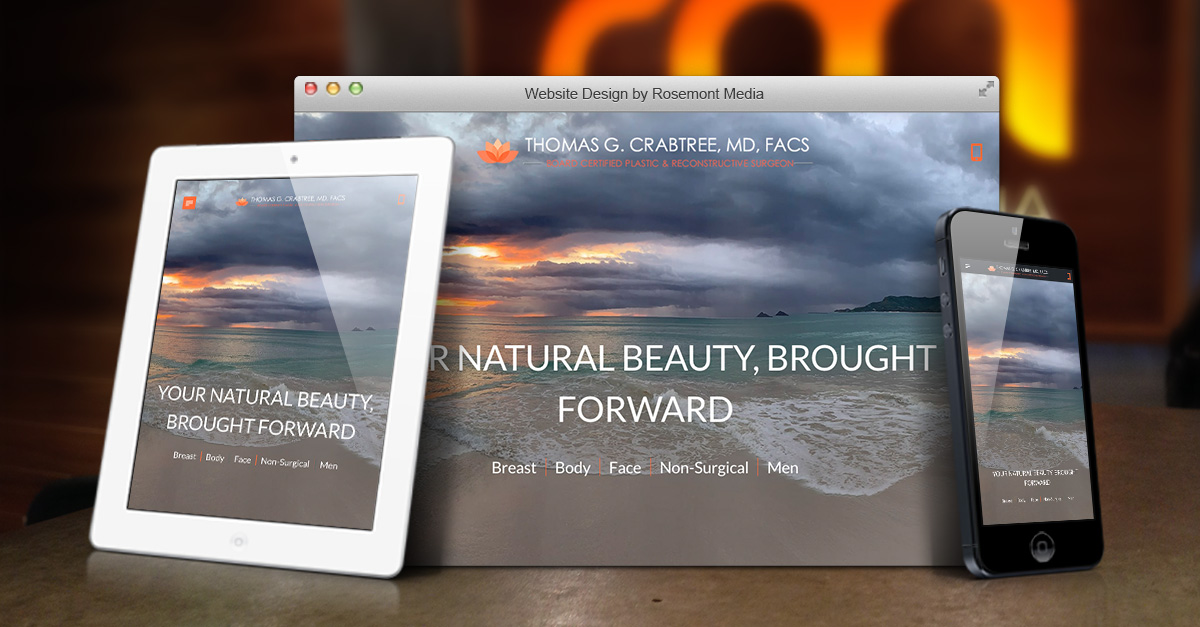 Project Details:
Launch Date:
February 2021
Page Count:
40
Services Overview:
Custom Responsive Design, SEO, Custom Content, CMS, and Blog
Compatibility:
Desktop, Tablet, Mobile
Visit Website:
www.crabtreeplasticsurgery.com
Categories:
Dr. Thomas Crabtree, a board-certified plastic surgeon in Honolulu and Kailua, wanted a brand-new website that provided viewers with comprehensive information on the many advanced procedures he offers while conveying the stunning beauty and majestic vistas that are so unique to the Hawaiian islands. Our team here at Rosemont Media took Dr. Crabtree's wishes to heart and set about building a customized, responsive medical website that incorporates a genuinely Hawaiian feel, presenting a calm, open, and inviting experience for the viewer that merges detailed content with large, beautiful imagery.
With its responsive design, Dr. Crabtree's new website can be viewed across numerous digital platforms without sacrificing ease-of-navigation or the depth of information that can be found on a standard desktop version of the site. In addition to the latest medical SEO strategies and an expansive and informative content structure covering the many surgical and non-surgical procedures available at the practice, the site's 40 pages include a biography of Dr. Crabtree, information on financing, specials, and loyalty rewards programs, and others designed to give the reader a comprehensive idea as to what they can expect. Additionally, the website includes an online skin care store where viewers can choose at-home products from a selection curated by Dr. Crabtree.
You can view this visually exceptional website at crabtreeplasticsurgery.com to see how a practice's geographical environs can be effectively combined with its description of services to provide viewers with an interesting and enticing virtual introduction. If you are considering an upgrade to your current website, or if you would like to create a brand new website for your practice, please contact Rosemont Media today!