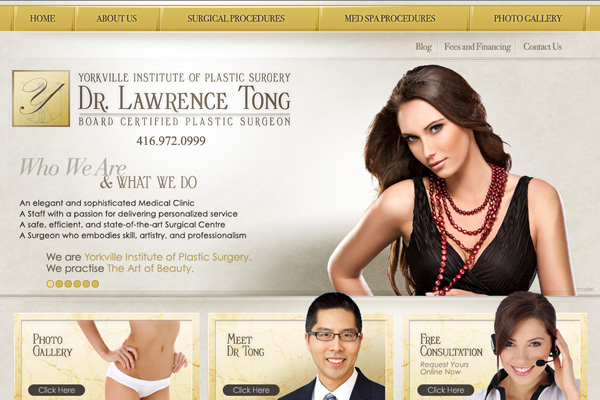 Project Details:
Launch Date:
October 2011
Page Count:
63
Services Overview:
Custom Design, SEO, CMS, JavaScript Slide Show, Photo Upload Gallery and Blog
Compatibility:
Desktop
Visit Website:
www.myplasticsurgerytoronto.com
Categories:
For his new website, Toronto plastic surgeon Dr. Lawrence Tong sought to highlight his dedication to providing quality patient care through the latest techniques and procedures. The site combines a content-rich foundation of extensive procedural information with user-friendly, yet intricate design, to convey his focus on personalized, ethical, and experienced plastic surgery. By utilizing the latest in medical website design techniques such as a layered before-and-after gallery, Dr. Tong can showcase his surgical expertise in a tasteful way that reassures patients of his aesthetic abilities and credibility as a valuable resource for whatever their plastic surgery needs may be. Our team of designers intentionally crafted Dr. Tong's website with his patients in mind so that every detail is tailored to offering a positive online experience.
Our unique and custom content covering procedures such as liposuction and Rhinoplasty in Toronto outlines every detail of the surgery process so patients grow to trust Dr. Tong and his practice as a valuable source of information, keeping them coming back to his site again and again. And because we've performed extensive research in search engine optimization and online marketing strategies, we can ensure that Dr. Tong's website stands out in the competitive market of plastic surgery.