Giving Thanks, The RM Way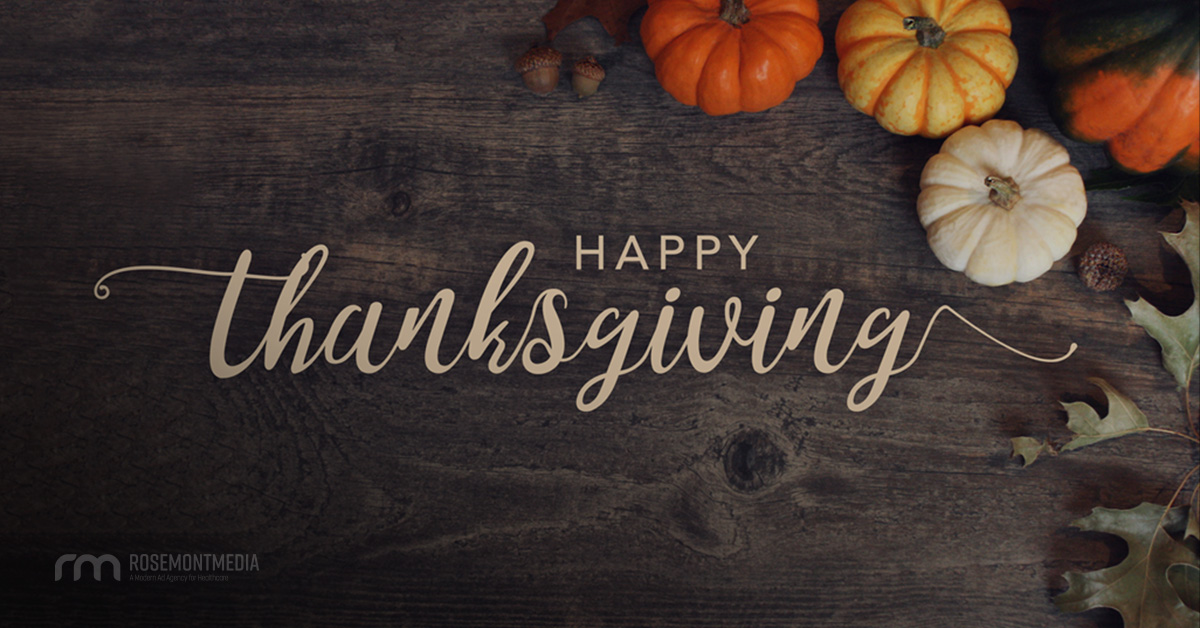 Whether or not you're prepared for it, Thanksgiving is this week! At Rosemont Media, we've got our fat pants ready, but we also wanted to pause and take a moment to appreciate certain things that truly make life great, like friends, family, and our wonderful clients. CEO Keith Humes reminds us that "it's time to stop and think about the good things in our lives besides the food & drinks!"
…and while most of the things on our list go beyond the delicious meal we will be consuming with our friends and families this week, there are also a few gems below that really showcase the RM Family's creativity, as well as the breadth of our gratitude:
"I am thankful for my aunt beating breast cancer (during Breast Cancer Awareness Month! 🙂), a healthy family, and great friends." —Kelsey
"I'm thankful for my family and the friendships that I have (both old and new)! I'm also thankful that the Red Sox won the World Series. 😉" —Alicia
"I'm thankful for my healthy, happy family. And let's not forget the copious amounts of caffeine that get me through each day." —Amy
"I am thankful for my awesome and supportive family, my two awesome daughters, my job, and my extended family at RM." —Karim
"I'm thankful for many things, but at this moment, I'm thankful for the giggles and cuddles I get from my 3 and 6-year-old daughters. Also for my iPhone, which easily captures videos and photos of them to remember forever! ❤️" —Courtney
"I'm thankful for (in no particular order):
1 – Privacy settings on Facebook/Twitter
2 – Alex Cora & Dave Dombrowski
3 – Google+ finally being laid to rest
4 – Pearl Jam… dedicated to kicking ass for 29+ years & counting
5 – The New Zealand designed A-24 Rat Trap, the WMD's in rodent annihilation. Ask me how, unless you belong to PETA
6 – Tirdy Works… a Maine woman who makes things out of moose 💩 & sells said 💩 to people around the world. Genius.
7 – Chobani Greek yogurt
8 – Scotty Cameron putters
9 – PTO days
10 – Find My iPhone app" —John F.
"After years of spending Thanksgiving away from home in wintery Minnesota, I'm thankful to be spending time with family and close friends here in sunny Southern California!" —Andrew
"I'm thankful for hard cheeses, semi-hard cheeses, soft cheeses, and my inherited resistance to hangovers. 😁" —Ashley
"I am thankful for my beautiful baby boys who keep me going strong on a daily basis, and for my health." —Aryana
"I am thankful for my husband who has stuck by me for 8+ years, my mom who has been a pillar in my life, and my sisters—though they are all different, I love each of them. Last, but never least, I am thankful for my twenty-one nieces and nephews. The bottom line is that I'm thankful for family; each and every one." —Heidi
"I'm thankful for the best family I could imagine. I've had the happiest first year of marriage with my husband Josh and our crazy kitty cat Willie Nelson Mandela, gained a new brother-in-law when my twin sister got married in August, and am blessed with the nosiest, neediest, most loving parents a girl could ask for!" —Megan
"I'm thankful for my wife and two kids who keep me on my toes. I'm thankful for a great team of designers who help support me and push me. Also, being a transplant from the midwest, I'm always thankful for the beautiful San Diego weather." —Seth
"1. My friends and family. They're super cool and amazing, they keep me company, support me, and keep me in check. I'm very fortunate in this department.
2. San Diego. It's the greatest city on earth. 80 degrees in November. We could use some rain, though.
3. The Pacific Ocean. It's big, provides waves and fish (which become sushi), and it looks really cool. I do miss it sometimes when I haven't been able to visit.
4. Mexican food. It tastes great, can often be eaten with your hands, and it's spicy. Sorry, it's almost lunchtime as I'm writing this.
5. The game of football, or as we call it: soccer. It provides me with great entertainment, gives me a reason to move around or exercise a couple times a week, and allows me to enjoy cold beers with friends.
6. Turkeys. We don't talk about them much, but many make the ultimate sacrifice to fill our bellies on Thanksgiving. Thank you, turkeys.
7. Potatoes. You know… po-tay-toes! You can boil 'em, mash 'em, stick 'em in a stew. I love mashed potatoes. Is it lunchtime yet?
8. Last, but not least, Rosemont. I come here almost every day it seems. It's great to have a job with a computer, the Internet, and a desk that goes up and down. Although work isn't always rainbows and butterflies, I really enjoy collaborating with the RM crew and conquering the web." —Chris
"I'm thankful for VOIP services like WhatsApp to be able to harass family abroad with obnoxious GIFs and poorly timed phone calls. I'm also thankful for free shipping and returns with online shopping purchases and a window to enviously watch people walk their dogs through the neighborhood where our office is." —Lea
"I am thankful for the smiles, fun, laughter, and life's adventures I get to share with my son and husband every day." —Victoria
"I'm grateful for the gorgeous view [at RM], the boundless talent and support within our writing team, and my five minute commute!" —Merylee
"I'm thankful for being able to live and work in San Diego, close to friends and family." —Misha
"In addition to being thankful for my amazing husband, dogs, friends, and family, I am grateful for martial arts. I've truly enjoyed the benefits of kickboxing over the past year, as well as learning some self-defense moves that utilize techniques like Brazilian Jiu-Jitsu and Muay Thai." —Cassie
"I'm thankful for everyone in the medical community who thinks on their feet and saves the lives of the ones we love. They are the heroes we rely on in our time of need.
My mom has been in remission for stage 3 melanoma, but recently found out she has a tumor in her breast. When she went in to have it removed, the hospital staff noted her vitals were alarmingly low prior to surgery. She's so used to feeling ill all the time, she didn't realize she had walking pneumonia, which in turn caused sepsis in her blood, so she was fading fast. She was lucky to be in a hospital at the time—it saved her life. After recovering her strength two weeks later, she had the surgery to remove the tumor. Her biggest fear was having to go through radiation and chemotherapy again, but she has since found out that she will not need to!! The staff at St. Luke's Hospital saved my mom's life. I know there are TONS of people like that in every hospital, and I hadn't felt such gratitude towards that community until this episode with my mom." —Sean
🦃 🦃 🦃
Wherever you are, we hope you are able to spend some time with family and friends this Thanksgiving… and if you have some extra leftovers, feel free to send them our way! 😉🍗
Happy Thanksgiving from Rosemont Media!