Rosemont Media Celebrates 10 Years!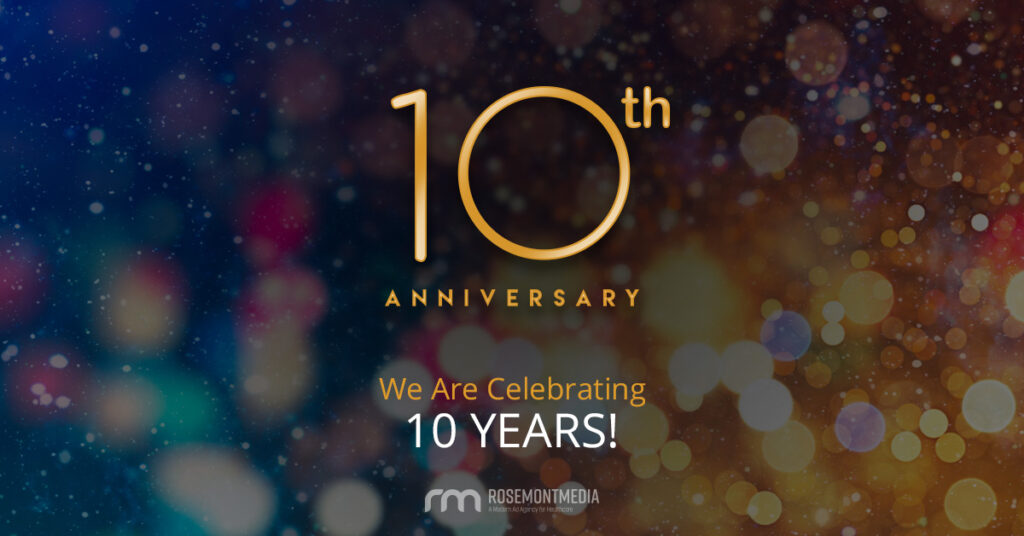 Ten years ago today—with a staff of only three—we began this exciting endeavor. While we have grown and changed in many ways over the years, we still remain dedicated to our initial goal: to provide effective digital marketing solutions through ethical and transparent services. We are extremely grateful to have the continued support and loyalty of our incredible clients, who are some of the most prestigious and talented surgeons and dentists in the world.
Throughout our time in the digital marketing industry, we have remained ahead of the curve, enabling us to deliver innovative products and services of the highest quality. This has also helped us build a strong reputation in the elective healthcare marketing field—something we strive to maintain for many more years to come.
The remarkable level of talent displayed by our staff each day is undeniable. Without their commitment, skills, creativity, and passion, none of this would be possible. To celebrate our tenth anniversary, we asked them to share their thoughts about their time at Rosemont Media, their favorite things about working here, and/or what they hope to see in our future. Here's what our team had to say:
Founders
"Wow, 10 years went by like the blink of an eye. I am fortunate to have enjoyed an early start to my involvement in digital marketing; this year marks my twentieth year in the healthcare vertical. The latter ten of these as a business owner have been an incredibly humbling and enlightening experience. A day never goes by without thinking about the immense responsibility that I have to my family, customers, and employees to keep our company moving forward. As a service-oriented business, our success ultimately relies on harnessing the power of our talented team working in unison. The thing that drives me the most is the constant change that continually presents new and exciting opportunities. I am very optimistic about the future of digital marketing and look forward to continuing to produce the highest quality websites and marketing strategies for healthcare professionals."
— Keith Humes, CEO
"Taking time to reflect on this ten year milestone fills me with immense pride. Many of our very first clients are still clients to this day, which is a powerful testament to the incredible talent of our team. Over the years, I have been asked many times about the best part of owning/working at RM, and my answer has always come easy: the people. From seeing friendships form, to families grow—the people I get to come and work with day after day are what keep me going. I greatly admire the skills of each and every one of our departments, and am amazed by the growth that is pursued by each team member. Our products and services continue to get better and better, and I am so fortunate for the opportunity to keep building our little company."
–Courtney Humes, Product Development Director
9-10 years with RM
"The best thing about working at Rosemont Media is the people. We have a great team, and everyone is a pro at what they do. Over the years, our growth has been pretty impressive, but thanks to the group we have, we are even more united now than when it was just a handful of us. Witnessing our adaptation to change in the industry is another big one. Being ahead of the curve with responsive website design was key in our success. In the future, I see us expanding our services and doing more campaign-driven projects as well as identity/branding makeovers."
–Seth McKinney, Creative Director
"It's amazing to think it's been 10 years (9 years, personally). Watching the company grow and evolve has been extremely exciting. It's comforting to look around and see others that have helped set our foundation over the years, and encouraging to see new faces that will help take us to the next level. As digital marketing continues to grow in popularity, we know that customization, hard work, and innovation will continue to set us apart."
–Chris Brown, National Sales Director
"It's been exciting for me to see Rosemont Media grow from 4 people to 43 strong over the course of my 10 years here. What started as a humble lemonade stand back in 2008 has given way to a well-oiled machine of people who take great pride in what they do on a daily basis."
–John Forrest, Director of Local Search
"Seeing the emergence of the phone as the primary device used in online searches and the need for websites to be built accordingly (which Rosemont was ready for!!) has been one of the most exciting changes over the years."
–Joel Spydell, Senior Consultant
"I have on my desk two of the most important items I've picked up over the years. One of these items is a copy of William Strunk, Jr.'s The Elements of Style. The other is The Battling Bard—a puppet in the likeness of William Shakespeare, complete with boxing gloves, prepared to do battle with that most dreadful of foes: bad grammar. They are emblematic of ideals shared with the other writers in the Writing Department, which include emulating the basics of good writing while remembering that writing is fun (really!).
Those ideals are not hard to live by when you work in an environment like this one. Hitting our 10th anniversary feels a bit surreal. In 2008, Rosemont Media had one full-time writer: me. As the company has grown over these last 10 years, I grew right along with it, and so did the Writing Department. We now have a full staff of exceptionally talented writers, and the pages we have written for hundreds of websites could fill volumes upon volumes of books. The work never becomes monotonous—we are fortunate to have many distinct tasks that allow us to find ways to be more and more creative. Our work is just one part of the puzzle, fitting in with pieces such as the design, code, structure, and project management for which other departments are responsible. The type of collaboration fostered at Rosemont Media allows you to truly feel you are contributing. It also helps when you work on a team full of nice, funny, incredibly smart people. I've learned a lot, and I continue to learn, even after all these years. I've never dreaded coming into work. Not a single day. I think that really says something."
–Tom Hall, Chief Editor and Senior Writer
"One of the best things about working at Rosemont is the laid-back work environment and location in PB, but it has been exciting to witness the growth of the company over the years. I have learned a lot in my time at RM, but one of the biggest lessons I've learned is to never delete emails and document everything. Every. Thing."
–Elmer Mun, Technology Communications Manager
4-6 years with RM
"I am constantly amazed by the customization that comes from the design and development teams. It's not so much of a 'change,' but a constant changing of elevated expectations and ideas coming from their respective departments. From our amazing websites, to comprehensive email marketing campaigns—the ability to take what I am explaining to clients and turn it into a tangible reality is something that I have loved watching evolve (both as a Manager/Consultant and as a general fan of design and marketing). I look forward to seeing where we go from here. Augmented reality websites? I hope so…"
–Brandon Borenstein, Medical Sales Manager
"It's been really exciting to see the growth of the company over the years, and I hope we will never lose our boutique agency vibe. During my time at RM, I've learned how to become a better consultant to my clients by understanding all aspects of their strategy. I've also learned the best way to take care of our clients is to treat their online marketing strategy as if it was my own. In the future, I hope we will be able to use our Google Premier Partnership to take ad buying in dentistry to the next level. Overall, though, my favorite thing about Rosemont is being part of a great team and making our clients happy."
–Mark Etchings, Senior Consultant
"Coming to Rosemont Media was a big deal for me. For several years after college, I tried to break into this industry. Unfortunately, the job market at the time made it nearly impossible, since 'entry-level' positions had essentially been rendered a thing of the past. I will forever be grateful for the opportunity I was given here, and I am extremely proud of the progress I have made over the years (thanks to the incredible people I work with). In addition to improving my writing skills and becoming more knowledgeable about the digital marketing industry, it has been exciting to learn about a wide variety of medical conditions, treatments, and technologies. I am thrilled to be a part of the RM family as I continue to learn and improve. I can't wait to see what the future holds for us!"
–Cassie Fowler, Content Marketing Project Manager
"The biggest lesson I've learned during my time here is to always keep learning. Both the elective healthcare marketing and development industries are very fast paced and ever-changing. The collaborative development environment allows us to creatively solve challenges using the best tools available, which helps keep Rosemont Media at the top of the elective healthcare marketing field."
–David Anderson, Development Manager
"To me, the best part about working at Rosemont Media—which I hope will never change—is a solid combination of creativity + capability + camaraderie."
–Erin Rea Westlake, Graphic Designer
1-3 years with RM
"The best part of working at RM is the people. They're what make the dream work!"
–Amy McDowell, Senior Consultant
"I can hardly believe it's been almost 3 years since I started at RM! The best part about working here is definitely the people. We spend 40+ hours a week together, and it's not every work environment where you're surrounded by people like the ones here. There's constant laughing heard throughout the office, and that's important; happiness is key! :)"
–Megan Hunter, Account Executive and Team Trainer
"The social media department is constantly changing to adapt to the social marketing environment. Our day-to-day today looks nothing like what it was when we first began! One of the biggest lessons I've learned over the years is that there's no such thing as too much communication. I hope to see more departmental integration and cross-training in the future (department swap for a day, anyone?), and I hope we will continue our yearly holiday celebration at the Crab Catcher! I also love the location of our office. Driving over Mission Bay and alongside the beach every day makes for a beautiful commute!"
–Lea Stojeba, Social Media Marketing Strategist
< 1 year with RM
"One of my favorite things about working at Rosemont Media is being able to spend the majority of my day coding and programming—and often reaching a flow state by having the room to work autonomously on projects. I really love the team environment and that we are available to collaborate, brainstorm, and problem-solve together (and quickly, too).
Finally, I am very proud of the custom websites we produce and feel great satisfaction for being a contributor to that high-end product."
–Misha Osinovskiy, Front End Developer
"So far, I've really enjoyed working at Rosemont. Although I've only been here for two and a half months, I've learned so much about Internet marketing and the importance of developing strong relationships with our clients. I've also learned the importance of doing the small, 'extra mile' tasks for our clients as well as adding a personal touch to as many interactions as possible. The people at Rosemont are awesome! Everyone has been kind, inviting, and supportive. I'm excited to continue my growth as I dive deeper into SEO, social media marketing, website development, and even our clients' industries."
–Andrew Nino, Sales Support Specialist
"During the short time that I have been here, I've found that the people are the best part about working at Rosemont. Everybody has been super welcoming, friendly, and beyond helpful, which makes starting a new position much easier. A strong, supportive company culture is important to me, and I'm glad to have found that here at Rosemont."
–Alicia Truesdell, Operations Manager
Cheers to 10 years!
Thank you to all our amazing clients for believing in us, and to our staff for the hard work they do every day. It's been a wonderful adventure, and we look forward to what the future holds for all of us. Cheers! 🍾 🎉