2014 Google Ranking Factors in Review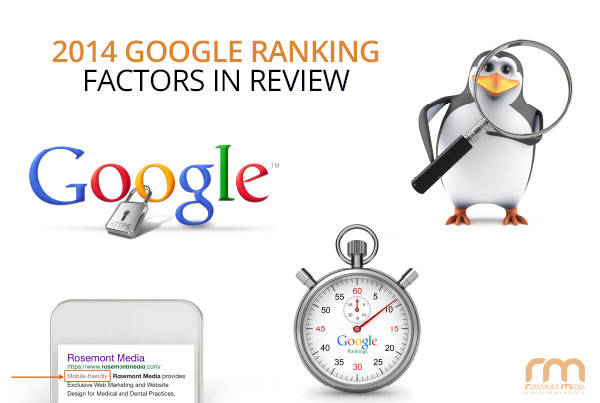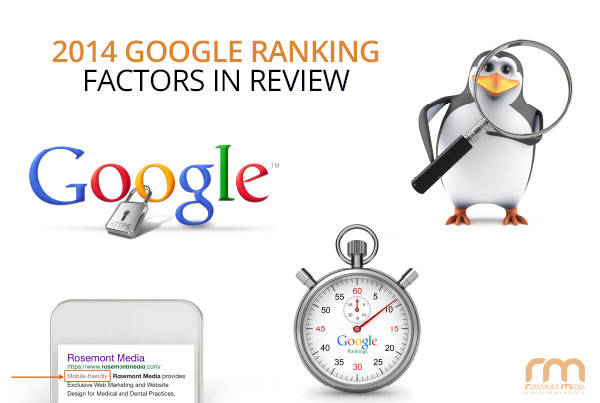 Twenty-fourteen was a big year for new website ranking factors. From penalizations for bad links to boosts in SEO for secure web pages, the effects of Google's continuous cleanup had – and will continue to have – a profound impact on sites all across the globe. As the year draws to a close, we wanted to take the opportunity to not only reflect on some of the latest changes made to Google's search algorithm, but also to provide a roadmap for Internet marketing success that can help improve your website's search engine rankings in 2015 and beyond.
Website Security
As part of an effort to enhance the overall safety of the Internet, Google created an SEO incentive for securing websites: those that make the switch from HTTP (Hypertext Transfer Protocol) to HTTPS (Hypertext Transfer Protocol Secure) will benefit from a slight bump in search engine ranking.
If you're not familiar, the HTTP acronym can be seen prefacing a website's domain name in the address bar of your Internet browser (i.e. Google Chrome, Firefox, Internet Explorer, etc.). HTTPS is a secured version of HTTP that helps ensure valuable information on websites is safeguarded via encryption. This includes phone numbers, email addresses, and other personal data visitors may submit through your website.
Currently, the boost in search engine ranking provided by transitioning to HTTPS is relatively small in comparison to other aspects of Internet marketing; however, making the switch to HTTPS is now widely considered a "best practice" strategy, and Google has revealed it will likely increase the influence website security has within its search algorithm over time.
New Penguin Rollout
Google originally launched Penguin – a major update to its search algorithm – back in 2012. Designed to penalize websites that use manipulative link strategies, the algorithm upgrade has received a number of modifications since its release, the latest of which came this year. As the newest Penguin update continues to roll out, sites that have avoided unethical link-building strategies are being rewarded, and sites that have kept using and/or failed to remove spammy links are incurring Google Penalties and even Manual Spam Action.
To continue evading Penguin's wrath, websites need to employ the newest strategy for search engine optimization: link removal. Low-quality links – such as those that are not relevant to the topic, obtained from link farms or random blogs/forums, deceptive or unethical, unnaturally and/or excessively stuffed into content, etc. – should be removed from your site's link profile as they will eventually harm your rankings (if they haven't already). Doing so will also help ensure you are following "best practices".
Mobile-Friendly Labels
With Internet browsing via mobile devices continuing to skyrocket, Google has revised how search results appear for websites that are mobile-friendly. As you can see below, a "Mobile-friendly" label is now clearly visible in search engine results for sites that are compatible with smartphones, tablets, and other non-traditional devices.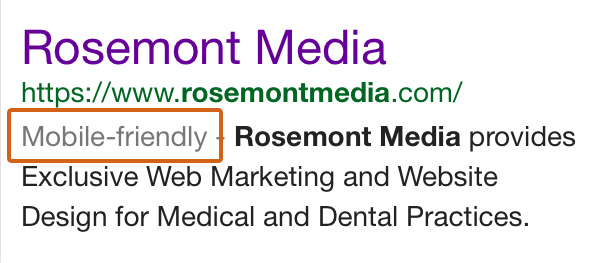 To qualify for this distinction, your site must have a mobile or responsive website design that resizes content to fit the user's screen, utilizes easy-to-read text with no need for zooming, avoids using Flash and other software not compatible with mobile devices, and employs proper spacing to enable viewers to easily select correct links. If you don't already know whether or not your website meets this criteria, plug your URL into the helpful tool found here.
Site Speed
If lack of mobile compatibility doesn't cause viewers to spurn your website for another, slow site speed surely will. According to Google, "Faster sites create happy users and we've seen in our internal studies that when a site responds slowly, visitors spend less time there." Not only do users benefit from a faster site, the search engine giant also notes that site speed could in fact help improve your rankings. For some insight into how fast your site responds to web requests, this beneficial resource will give you an individualized breakdown of what you need to fix, what you should consider improving, and where you are excelling in the speed department: https://developers.google.com/speed/pagespeed/insights/.
Stay Ahead of the Game
To stay abreast of the latest trends and updates within the Internet marketing industry, we invite you to refer to our informative news blog, the Rosemont Review. Additionally, feel free to check out our page on the top ranking factors for the aesthetic practice.
If you have any questions, please don't hesitate to contact Rosemont Media today.